Glaucidium brodiei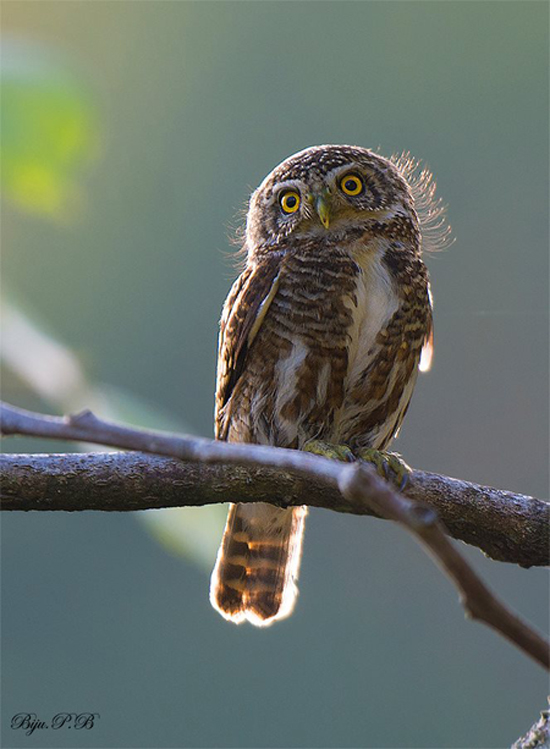 Identification
15–17 cm (6-6¾ in) - Smallest Asian owl
Large round head
Rufous brown or grey body
Dark brown bars on back, wings, tail, sides of upper breast
White lower breast and belly
Dark brown spots on sides
Creamy-buff spots on head
White throat with a brown bar
Buff collar
Two orange and black eye spots on back of neck
Distribution
Asia: found in Afghanistan, China, Tibet, Nepal, Pakistan, India, Eastern and Western Himalayas, Bangladesh, Bhutan, Taiwan
Southeast Asia: Indochina, Myanmar, Laos, Vietnam, Cambodia, Thailand, Malaysia, Malay Peninsula, Brunei, Borneo, Indonesia, Greater Sundas and Sumatra.
Taxonomy
Subspecies
There are 4 subspecies[1]:
Two additional subspecies garoense and sylvaticum are not generally recognised[2].
Habitat
Evergreen montane forests.
Behaviour
Most active at dusk and night.
Diet
The diet includes small birds, rodents, large insects and lizards.
Breeding
It nests in a tree cavity. 4 white eggs are laid and both parents feed the young.
Vocalisation
Recording by Alok Tewari
Recorded early morning
Sat Tal Forest, Alt. 5500 ft., Uttarakhand Himalayas, India, 19 October 2018.
Gallery
Click on photo for larger image
References
Clements, J. F., T. S. Schulenberg, M. J. Iliff, S. M. Billerman, T. A. Fredericks, B. L. Sullivan, and C. L. Wood. 2019. The eBird/Clements Checklist of Birds of the World: v2019. Downloaded from http://www.birds.cornell.edu/clementschecklist/download/
Lepage D. (2021) [Avibase - https://avibase.ca/8BB833BB]. Retrieved 23 January 2021
Wikipedia
Birding in Taiwan
Recommended Citation
External Links