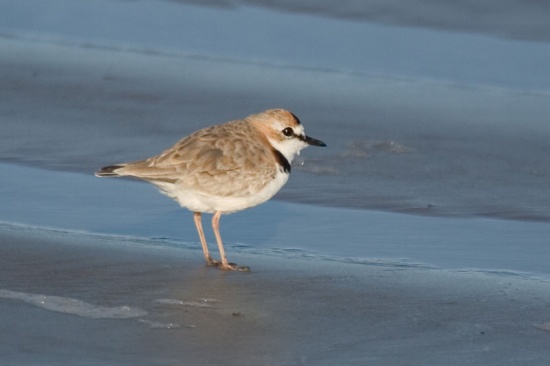 Charadrius collaris
Identification
18 cm
Brown upperparts
White underparts
Black breast band

Male
White forehead
Black frontal bar
Black stripe from bill to eye
Chestnut mid-crown and nape
Yellow legs

Female: similar, though some may show a brownish tinge to the black areas
Distribution
Central and South America: found from Mexico to northern Argentina and central Chile.
Accidental vagrant to Texas (1 record).
Taxonomy
This is a monotypic species[1].
Habitat
Wetlands, ponds, riverbanks and sandy beaches, flooded fields and freshwater marshes.
Behaviour
Breeding
They nest in a bare ground scrape often next to grass tufts. The clutch consists of 2 brown-blotched creamy eggs.
Vocalisation
Flight call: a sharp metallic pip.
References
Clements, JF. 2010. The Clements Checklist of Birds of the World. 6th ed., with updates to December 2010. Ithaca: Cornell Univ. Press. ISBN 978-0801445019. Spreadsheet available at http://www.birds.cornell.edu/clementschecklist/Clements%206.5.xls/view
Wikipedia
Recommended Citation
External Links