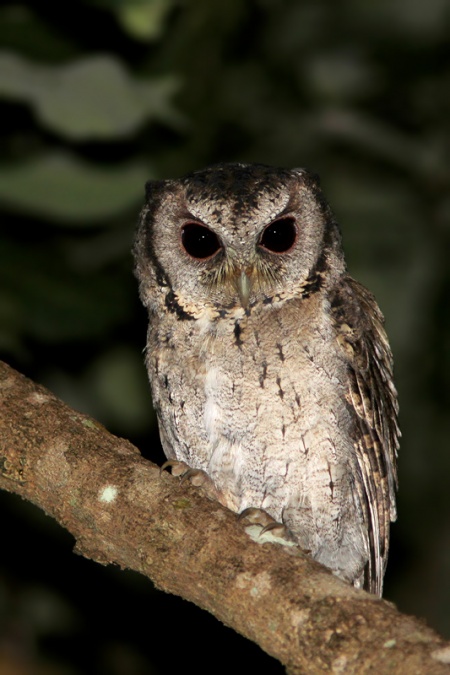 Otus lettia
Identification
23-25cm
Grey or brown upperparts
Faint buff spots
Buff, fine dark streaked below
White or buff facial disc
Orange or brown iris
Buff neckband
Small head tufts

Sexes similar
Both grey and rufous morphs are know; the difference in colour is mostly evident in the underside.
Similar Species
Adults are similar to but have paler upperside than Sunda Scops-Owl. Juveniles are not safely differentiated from juveniles of Sunda Scops-Owl3.
Distribution
Eastern Himalayas to South-East Asia, eastern China, and Taiwan; ussuriensis is found north to Sakhalin Island. Most if not all of these populations are migrating south of this breeding range in winter, for example down into India and the Malay Peninsula.
Taxonomy
This species (Otus lettia) is sometimes considered a subspecies of Otus bakkamoena; the latter species is currently called Indian Scops Owl, but if considered to include Otus lettia, would be converted back the name Collared Scops Owl. Sunda Scops-Owl (Otus lempiji) is another species currently recognized in this superspecies. The species limits in this complex seems a little uncertain: an analysis2 including Indian Scops-Owl, Sunda Scops-Owl and subspecies lettia and ussuriensis of Collared Scops-Owl (and other species) failed to find lettia and ussuriensis as each others closest relatives. The authors speculate that ussuriensis instead might be closely related to Japanese Scops-Owl. Konig3 indeed includes ussuriensis as a subspecies of Japanese Scops-Owl and so do now Clements and Gill and Donsker..
Subspecies
As currently defined, Collared Scops-Owl includes five subspecies1:
Hainan Island (southern China)
ussuriensis used to be included here but is now provisionally placed within Japanese Scops-Owl.
Habitat
Forests and well-wooded areas.
Behaviour
Nocturnal.
Breeding
It nests in a hole in a tree. The clutch consists of 3-5 eggs.
Diet
The diet includes insects.
Vocalisation
Call: single soft whuk.
References
Clements, J. F., T. S. Schulenberg, M. J. Iliff, D. Roberson, T. A. Fredericks, B. L. Sullivan, and C. L. Wood. 2017. The eBird/Clements checklist of birds of the world: v2017, with updates to August 2017. Downloaded from http://www.birds.cornell.edu/clementschecklist/download/
Fuchs et al. Tracing the colonization history of the Indian Ocean scops-owls (Strigiformes: Otus) with further insight into the spatio-temporal origin of the Malagasy avifauna. BMC Evol Biol. 2008; 8: 197. read in November 2008.
König, C., F. Weick, & J.-H. Becking. 1999. Owls - a guide to the owls of the world. Yale University Press. ISBN 0300079206
Wikipedia
Recommended Citation
External Links