This article is incomplete.
This article is missing one or more sections. You can help the BirdForum Opus by expanding it.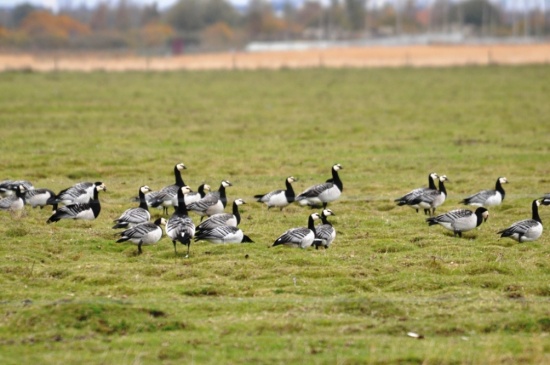 Overview
Despite being a large and busy city, the Danish capital of København (Copenhagen) has excellent birding both within and around the city.
The urban parks and nearby woodland areas have an interesting range of passerine breeders, raptors pass over the city in good numbers on migration, and the lakes and coasts attract wintering waterfowl, waders and seabirds.
Birds
Notable Species
Utterslev Mose
Utterslev Mose, in the suburbs to the northwest of the city centre, is one of the best parks with lakes that hold grebes in summer including Great Crested Grebe, Red-necked Grebe and sometimes Black-necked Grebe which were once regular breeders but now mainly spring visitors. Greylag Goose and Common Pochard also breed as well as Thrush Nightingale, Icterine Warbler, Marsh Warbler, Sedge Warbler, Reed Warbler and Reed Bunting. Bearded Tit and Penduline Tit may also be present. Great Bittern, a rare bird over most of Denmark, has been seen in several recent winters and has also stayed on into spring raising hopes that one day breeding may occur.
Marsh Harrier occurs as a regular migrant but has bred on occasion, and both Little Gull and Black Tern pass through. Osprey and Honey Buzzard are regular overhead on passage. The park is also good for passage migrants particularly during west and northwesterly winds. Access: busses 66, 6A, 96N to Bispebjerg Parkalle (150 m); 68 to Mosesvinget (200 m); 2A to Husumvold Kirke, Akandejej (20 m); also S-train to Emdrup Station (0.9 km).
Ishøj Strand
A series of lakes at Ishøj Strand on the Køge Bugt ('Køge Bay') coast on the south side of the city are good for wintering waterfowl including regular Greater Scaup and Smew; the beaches here are also good in winter for Twite and Snow Bunting, and wintering Hen Harriers are regular. Access: S-train to Ishøj or Hundige Stations (1.2 km), also local busses. Further south on Køge Bugt just north of Køge, the coastal lagoons at Ølsemagle Revle are very good for passage waders in late summer; Kentish Plover can also be seen here. Access: S-train to Jersie Strand Station (0.8 km), also local busses.
Amager
The island of Amager in the southeast of Copenhagen has several excellent birding areas including Sjællandsbroen overlooking the harbour where wintering waterfowl and seabirds occur in good numbers especially in severe weather when other water bodies are frozen.
The Grønjordssøen is a lake on Amager Fælled just north of Sjællandsbroen with breeding Little Grebe, Red-necked Grebe and Black-necked Grebe, Penduline Tit and Thrush Nightingale. Access: Metro train to DR Byen Station (0.5 km).
The large and rather open, former military area of Vestamager ('West Amager'; also called Kalvebod Fælled) attracts raptors in winter often including Hen Harrier, Rough-legged Buzzard and sometimes also White-tailed Eagle and very occasionally Golden Eagle, Greater Spotted Eagle and Lesser Spotted Eagle. This area of more than 2,500 ha covers grassland and woods, open beaches, marshes and lakes and is the best birding area within easy reach of Copenhagen. Grasshopper Warbler breeds here in numbers unmatched anywhere else in Denmark with more than 150 singing males recorded in some years. Whooper Swans of dubious origin bred here from the 1970s until the 1990s. As it was once used as a firing range it is advisable to keep to paths as there may be unexploded shells in the area. Access: busses 30, 33, 36, 81N to Nøragersmindevej (1 km to entrance).
Kongelunden
Kongelunden, at the southwest corner of Amager, is a mixed woodland area with Icterine Warbler and sometimes Golden Oriole among the many breeding passerines and sometimes Tengmalm's Owl in winter. Barred Warbler formerly bred, but is now extinct as a breeding bird in Denmark. The site suffers from being under the flight path of the adjacent Copenhagen International Airport, being particularly noisy in southwest winds. Access: busses 33, 81N to Kongelunden (in woodland).
Hareskov
This mature mixed spruce-beech forest on the northwest edge of the city is mainly of interest for its breeding Black Woodpeckers. Great Grey Shrike can be seen in winter in clearings. Access: S-train to Hareskov and Skovbrynet Stations (in forest).
Dyrehaven
Jægersborg Dyrehave ('deer park'), a preserved former royal hunting park at Klampenborg in the northeast of the city, is an open broadleaf woodland with meadows with large herds of Fallow and Red Deer. The widely spaced, old trees make it one of the best places in Denmark for Short-toed Treecreeper, here at the extreme northern edge of its range. Red-breasted Flycatcher has bred occasionally, and the Mølleå stream running through the park can have Common Kingfisher and Common Dipper in winter, both scarce birds in Denmark. Access: S-train to Klampenborg Station (150 m to park entrance); also busses 182, 183 to Rådvad for the Mølleå (200 m).
Saltholm
This low-lying marshy island in the Øresund east of Copenhagen, only a metre or two above sea level, is an important wetland reserve including among other birds, Denmark's only colony of Caspian Terns. Access (by boat from Kastrup Havn) is very restricted, limited to a small number of organised tours (and are unlikely to be able to see the Caspian Terns).
Rarities
Rarities are frequently seen in this well-watched area and have included Little Egret and Terek Sandpiper, Lesser Kestrel, Gyr Falcon, Lesser Grey Shrike and Pine Grosbeak. White-winged Tern attempted to breed in the Vestamager in 1997 after a large spring influx but unfortunately failed due to a rise in water levels.
Check-list
Birds you can see here include:
Mute Swan, Whooper Swan, Greylag Goose, Common Shelduck, Eurasian Wigeon, Common Teal, Mallard, Garganey, Northern Shoveler, Common Pochard, Tufted Duck, Greater Scaup, Common Eider, Long-tailed Duck, Common Scoter, Velvet Scoter, Common Goldeneye, Smew, Goosander, Red-breasted Merganser, Little Grebe, Great Crested Grebe, Red-necked Grebe, Black-necked Grebe, Great Cormorant, Great Bittern, Grey Heron, European Honey Buzzard, White-tailed Eagle, Western Marsh Harrier, Hen Harrier, Eurasian Sparrowhawk, Common Buzzard, Rough-legged Buzzard, Osprey, Common Kestrel, Merlin, Northern Hobby, Common Moorhen, Eurasian Coot, Common Crane, Eurasian Oystercatcher, Pied Avocet, Ringed Plover, Kentish Plover, Golden Plover, Northern Lapwing, Red Knot, Sanderling, Temminck's Stint, Little Stint, Dunlin, Broad-billed Sandpiper, Ruff, Common Snipe, Whimbrel, Eurasian Curlew, Spotted Redshank, Common Redshank, Common Greenshank, Green Sandpiper, Wood Sandpiper, Common Sandpiper, Ruddy Turnstone, Red-necked Phalarope, Little Gull, Black-headed Gull, Common Gull, Herring Gull, Great Black-backed Gull, Caspian Tern, Sandwich Tern, Common Tern, Arctic Tern, Little Tern, Black Tern, Feral Rock Dove, Common Woodpigeon, Eurasian Collared Dove, Long-eared Owl, Short-eared Owl, Tengmalm's Owl, Common Swift, Common Kingfisher, Black Woodpecker, Great Spotted Woodpecker, Eurasian Skylark, Sand Martin, Barn Swallow, Northern House Martin, Red-throated Pipit, Meadow Pipit, Blue-headed Wagtail, White Wagtail, Bohemian Waxwing, Common Dipper, Common Wren, Dunnock, Eurasian Robin, Spotted Flycatcher, Thrush Nightingale, Common Redstart, Red-breasted Flycatcher, European Pied Flycatcher, Whinchat, Northern Wheatear, Eurasian Blackbird, Fieldfare, Song Thrush, Redwing, Mistle Thrush, Common Grasshopper Warbler, Sedge Warbler, Marsh Warbler, Common Reed Warbler, Icterine Warbler, Lesser Whitethroat, Common Whitethroat, Common Chiffchaff, Willow Warbler, Goldcrest, Bearded Tit, Marsh Tit, Coal Tit, Blue Tit, Great Tit, Eurasian Nuthatch, Common Treecreeper, Short-toed Treecreeper, Penduline Tit, Great Grey Shrike, Common Jay, Common Magpie, Eurasian Jackdaw, Rook, Hooded Crow, Common Starling, House Sparrow, Eurasian Tree Sparrow, Chaffinch, Brambling, European Greenfinch, European Goldfinch, Eurasian Linnet, Twite, Common Redpoll, Common Bullfinch, Reed Bunting
Other Areas of Interest
Raptors can be seen over most parts of the city when on migration with the highest numbers from the end of August until mid or late October.
The most numerous autumn raptors are Common Buzzard, European Honey Buzzard and Eurasian Sparrowhawk, and Common Crane passes over the area in good numbers in spring.
Other Wildlife
To do
Site Information
Copenhagen has among the best public transport services of anywhere in the world; almost all sites in the city are easily accessible. Most have excellent access for cycling and for disabled people. Car use is un-necessary.
Access and Facilities
Copenhagen has plenty of accommodation to suit a range of budgets and is an ideal birding location for those on short city breaks or business trips with little time to spare.
Contact Details
To do
External Links