Trachyphonus vaillantii
Identification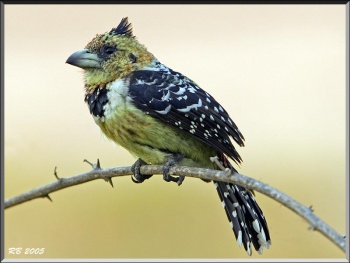 22–23 cm (8¾-9 in)
Adult male: Head crested; back, tail and broad breastband black, spotted and scalloped with white; head and face yellow, scaled with red; crest and nape black and rump red; belly yellow, broadly streaked red. Bill pale with dark tip, eyes red, legs and feet grey-black.
Adult female: Similar to the male, but has less red in the plumage, and on the belly there is more black on yellow parts.
Immature: Duller than adult; lacks white spots in collar; bill yellow with dusky central band; eye grey-brown.
Distribution
Africa between 4°S and 31°S: north-eastern and north-central South Africa, eastern and northern Botswana, Caprivi (north-eastern Namibia), Zimbabwe, Mozambique, Zambia, Angola, south-eastern Democratic Republic of Congo, Malawi and Tanzania.
Taxonomy
Subspecies
There are 2 subspecies[1]:
Habitat
Forests, savanna, thickets, watercourses and gardens.
Behaviour
Solitary or in pairs. Calls throughout the year. Usually roosts in its own nest hole (sometimes in disused nests of Greater Striped Swallow and White-browed Sparrow-Weaver).
Diet
Often uses feeders nestboxes in gardens. Forages in bushes and trees, and on the ground, for insects, snails, fruit, nectar, and sometimes eggs and nestlings.
Breeding
Nests in natural cavities and nest boxes, or excavates a nest cavity in a dead branch or tree trunk. Two to five eggs are laid year round (peaking October to February in the south of its range).
Vocalisation
Loud sustained trill, of up to 30 seconds; like "alarm clock with bell removed" (Gibbon, 2002).
References
Clements, J. F., T. S. Schulenberg, M. J. Iliff, D. Roberson, T. A. Fredericks, B. L. Sullivan, and C. L. Wood. 2017. The eBird/Clements checklist of birds of the world: v2017, with updates to August 2017. Downloaded from http://www.birds.cornell.edu/clementschecklist/download/
Gibbon, G. 2002. Roberts' Multimedia Birds of Southern Africa, Version 3. John Voelcker Bird Book Fund. www.sabirding.co.za
Hockey, PAR, WRJ Dean, and PG Ryan, eds. 2005. Roberts' Birds of Southern Africa. 7th ed. Cape Town: John Voelcker Bird Book Fund. ISBN 978-0620340533
Sinclair, I and P Ryan. 2003. Birds of Africa South of the Sahara. Princeton: Princeton Univ. Press. ISBN 978-0691118154
SA-Venues.com
Recommended Citation
External Links