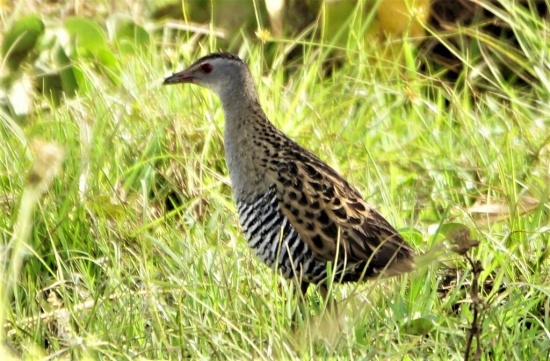 Crex egregia
Crecopsis egregia
Identification
20–23 cm (8-9 in)
Black head
Brown eye
Grey bill
White throat
Black and white back
Black and white bars from flanks to undertail coverts
Grey legs
Distribution
Found in sub-Saharan Africa
Western Africa: The Gambia, Guinea-Bissau, Guinea, Mali, Sierra Leone, Liberia, Ivory Coast, Burkina Faso, Ghana, Togo, Benin, Nigeria, Chad, Cameroon, Central African Republic, Gabon, Congo, Angola
Eastern Africa: Sudan, Ethiopia, Kenya, Uganda, Rwanda, Burundi, Tanzania, Zambia, Mozambique, Malawi
Southern Africa: Namibia, Botswana, Zimbabwe, South Africa, KwaZulu-Natal, Lesotho, Swaziland

Rare vagrant to the western Palearctic: a handful of records for the Canary Islands.
Taxonomy
Habitat
Near water and under cover of waterside vegetation or marshland.
Behaviour
Diet
The diet includes snails, worms, insects and their larvae, small frogs as well as some seeds, grass, green shoots and leaves.
Breeding
Monogamous. Their nest is a shallow cup constructed from blades of grass; it is concealed under a grassy tussock or small bush in scrape or depression on dry to moist ground. The clutch consists of 3-9 eggs which are incubated for around 14-24 days; both adults sharing the incubation duty.
References
Clements, J. F., T. S. Schulenberg, M. J. Iliff, S. M. Billerman, T. A. Fredericks, B. L. Sullivan, and C. L. Wood. 2019. The eBird/Clements Checklist of Birds of the World: v2019. Downloaded from http://www.birds.cornell.edu/clementschecklist/download/
Avibase
Taylor, B. (2020). African Crake (Crex egregia), version 1.0. In Birds of the World (J. del Hoyo, A. Elliott, J. Sargatal, D. A. Christie, and E. de Juana, Editors). Cornell Lab of Ornithology, Ithaca, NY, USA. https://doi.org/10.2173/bow.afrcra1.01
Recommended Citation
External Links