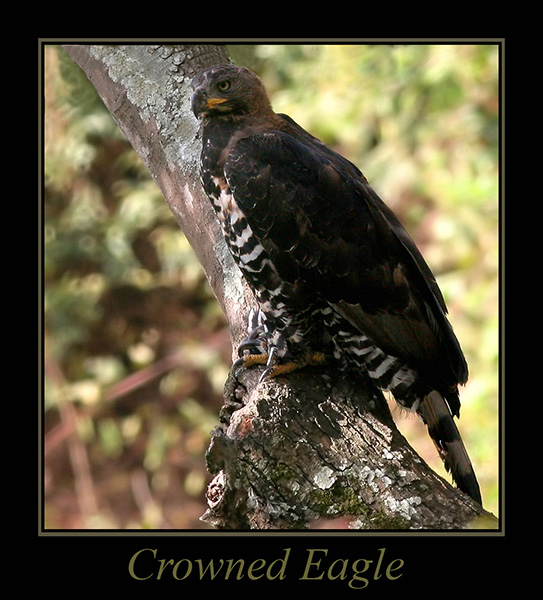 Disambiguation: for the species formerly called Crowned Eagle but found in South America, please see Chaco Eagle

Alternative names: African Crowned Eagle; Crowned Hawk-Eagle
Stephanoaetus coronatus
Identification
A huge, powerful, forest eagle; length 80-90 cm, mass 2.5-4.2 kg.
Adult: Head and upper parts dark brown and blackish brown; the short black crest feathers have pale tips. Under parts are off-white, barred black; breast often with a rufous wash. Flight feather undersides off-white with three (males) or two (females) black bars and black tips.
The bill is black, the cere is grey and the gape, eyes and feet are yellow.
Juvenile: Head, nape and under parts creamy white, pale rufous on the breast. Feathers of the upper parts have dark centres and pale edges.
Similar Species
The Martial Eagle has wings that extend to the end of the tail, whereas those of the Crowned Hawk Eagle reach only about half-way down the long tail when perched.
Distribution
Forests of sub-Saharan Africa:
Western Africa: Senegambia, Senegal, Guinea-Bissau, Guinea, Sierra Leone, Liberia, Ivory Coast, Ghana, Togo, Benin, Nigeria, Cameroon, Central African Republic, Equatorial Guinea, Gabon, Democratic Republic of Congo and Angola
Eastern Africa: Sudan, Ethiopia, Kenya, Uganda, Rwanda, Burundi, Tanzania, Zambia, Mozambique and Malawi
Southern Africa: Botswana, Zimbabwe, South Africa AND Swaziland
Common and widespread in parts of its range but vulnerable to deforestation and overhunting of prey animals. Rare now in many parts of Western Africa.
Taxonomy
This is a monotypic species[1].
Habitat
Evergreen forests close to large rivers and agricultural land.
Behaviour
Diet
Its diet consists primarily of mammals and it is adept at taking monkeys and small antelopes. In drier forest preferred prey are hyraxes and viverrids but takes also pangolines, porcupines, squirrels, birds or large lizards. Small livestock and carrion is taken rarely.
A very powerful eagle, dropping onto prey from a perch or stooping from soaring flight.
Breeding
Breeding season differs through range. A regular aerial display with loud calling is performed high above its territory. The nest is a massive structure of sticks placed in the main fork of a large tree and often used over many years. Lays 2 eggs but the elder chick always kills its younger sibling a few days after hatching.
Movements
A resident species.
References
Clements, JF. 2011. The Clements Checklist of Birds of the World. 6th ed., with updates to August 2011. Ithaca: Cornell Univ. Press. ISBN 978-0801445019. Spreadsheet available at http://www.birds.cornell.edu/clementschecklist/downloadable-clements-checklist
Del Hoyo, J, A Elliot, and J Sargatal, eds. 1994. Handbook of the Birds of the World. Volume 2: New World Vultures to Guineafowl. Barcelona: Lynx Edicions. ISBN 978-8487334153
Avibase
Recommended Citation
External Links