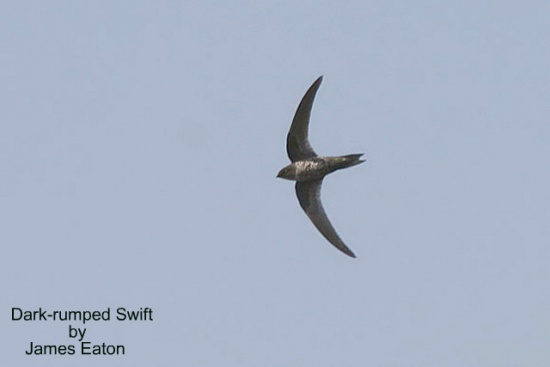 Apus acuticauda
Identification
Length 17cm. This species is only little known and a positive identification in field is difficult.
Black above
Underparts heavily scaled white, more than in any subspecies of Pacific Swift
Black undertail coverts
Throat sometimes darker, with a streaked impression
Tail deeply forked, outer rectrix fine and sharply pointed
Similar Species
The size is about the same as Common Swift, the structure similar to Pacific Swift.
Distribution
Breeds very locally in NE India. Recent record from Bhutan and one record in Myanmar. Winters probably in N Thailand, but records from there may also represent an unknown breeding population.
Known breeding place around Lilancote and Cherrapunji in the Khasi Hills. Thought to also breed in Lushai Hills in Mizoram.
Restricted range species with a very small population. Vulnerable, but more study needed to get more information about range and population.
Taxonomy
Forms a superspecies with Pacific Swift and was also considered to be a subspecies of it.
Regarded as monotypic, but birds from Thailand may represent a distinctive subspecies. Described subspecies rupchandi usually not accepted.
Habitat
Found around cliffs and deep gullies. The Khasi and Lushai Hills are in a very wet zone with over 11m of precipitation per year.
Behaviour
Diet
No information about food and feeding or behaviour.
Breeding
Breeds colonially in spring from February to May on ledges and fissures in cliffs. Builds a cup-like nest, using grass and feathers which are agglutinated with saliva. Lays 2-3, sometimes 4 eggs.
The records in Thailand suggest migration, but further study needed.
References
Clements, JF. 2011. The Clements Checklist of Birds of the World. 6th ed., with updates to August 2011. Ithaca: Cornell Univ. Press. ISBN 978-0801445019. Spreadsheet available at http://www.birds.cornell.edu/clementschecklist/downloadable-clements-checklist
Recommended Citation
External Links