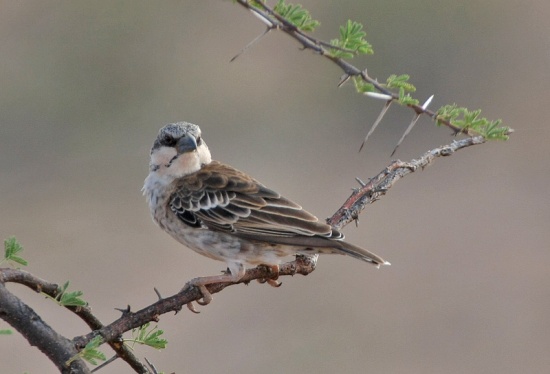 Plocepasser donaldsoni
Identification
A distinctive and unmistakable big-billed Sparrow-Weaver of semi-desert and arid regions.
Differs from the White-browed Sparrow-Weaver in having creamy cheeks, a dark malar stripe and lacking a broad white eyebrow and white wing-bars.
Distribution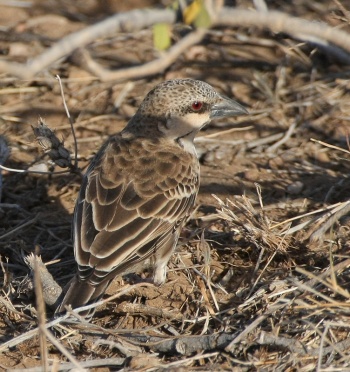 Eastern Africa: found in southern Ethiopia, southern Somalia and northern Kenya.
Taxonomy
This is a monotypic species[1].
Habitat
Dry acacia bush and bushy grasslands.
Behaviour
Usually in small flocks. Frequently found in mixed groups with Speckle-fronted Weavers.
References
Clements, JF. 2011. The Clements Checklist of Birds of the World. 6th ed., with updates to August 2011. Ithaca: Cornell Univ. Press. ISBN 978-0801445019. Spreadsheet available at http://www.birds.cornell.edu/clementschecklist/downloadable-clements-checklist
Sinclair, I and P Ryan. 2003. Birds of Africa South of the Sahara. Princeton: Princeton Univ. Press. ISBN 978-0691118154
Recommended Citation
External Links