Crithagra symonsi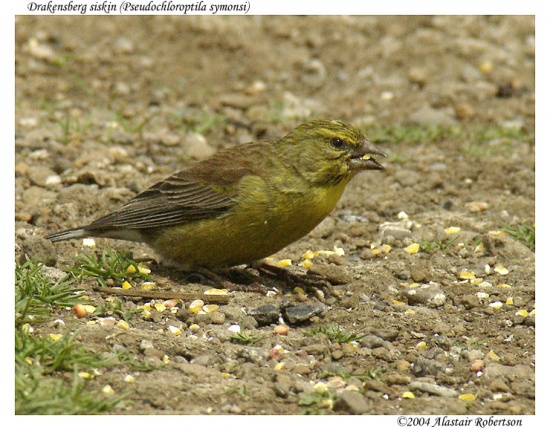 Pseudochloroptila symonsi
Serinus symonsi
Identification
Length 13-14 cm, mass 11 g
Male: The head and neck are olive-green, streaked brownish, the back is olive-brown, and the rump greenish. The tail is dark brown and white and the wings are brown. The throat and breast are yellow-green and the rest of the underparts are pale brown. The eyes, legs and feet are brown and the bill is brownish horn, the upper mandible being darker than the lower.
Female: Similar to the male, but browner.
This species should not be confused with any other species within its range.
Distribution
Lesotho highlands and adjacent highlands in South Africa.
Taxonomy
This is a monotypic species[1].
Formerly placed in genus in Pseudochloroptila by Clements or in Serinus.
Habitat
High-altitude (2000-3000 m) heathlands, shrublands, grasslands and croplands.
Behaviour
Diet
Forages on the ground and in shrubs in pairs or small flocks. Food includes seeds, buds and insects.
References
Clements, J. F., T. S. Schulenberg, M. J. Iliff, D. Roberson, T. A. Fredericks, B. L. Sullivan, and C. L. Wood. 2017. The eBird/Clements checklist of birds of the world: v2017, with updates to August 2017. Downloaded from http://www.birds.cornell.edu/clementschecklist/download/
Hockey, PAR, WRJ Dean, and PG Ryan, eds. 2005. Roberts' Birds of Southern Africa. 7th ed. Cape Town: John Voelcker Bird Book Fund. ISBN 978-0620340533
Recommended Citation
External Links