This article is incomplete.
This article is missing one or more sections. You can help the BirdForum Opus by expanding it.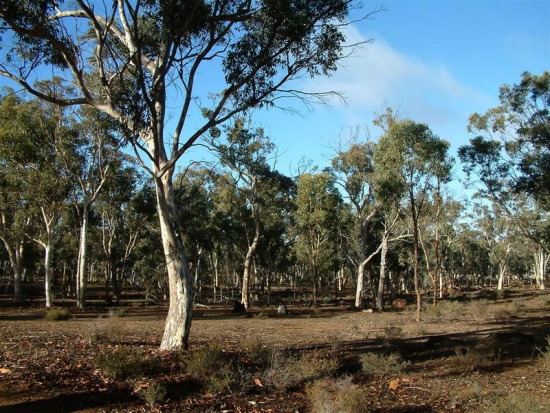 Overview
Dryandra Woodland is a reserve managed by the Department of Environment and Conservation (DEC). It had previously been used for woodcutting and plantations of Brown Mallet trees, which provided the tannin required to cure leather.
The reserve is located about 22km north-west of the wheatbelt town of Narrogin and about 2 hours drive south-east of Perth. The reserve features various habitats, including Wandoo Woodland, Jarrah Woodland, Mallet Woodland and Kwongan Heathland. There are also a few dams which can yield waterbirds.
Dryandra is most famous for it's mammals rather than it's birds. DEC has baited the reserve with 1080 for many years, reducing the fox population greatly. There are also a few predator proof compounds in the reserve where endangered marsupials are bred. One of these areas - Barna Mia - is open to the public for organised spotlight tours. Mammals in these compounds are - Woylie (Brush-tailed Bettong), Boodie (Burrowing Bettong), Bilby (Rabbit-eared Bandicoot), Quenda (Southern Brown-bandicoot), Mala (Rufous Hare-wallaby) and Mernine (Banded Hare-wallaby). Perhaps the most famous mammal in Dryandra however is the Numbat, which roams freely in the reserve. Being a diurnal species, they are often spotted by visitors. Other mammals on the reserve include Tammar Wallaby, Black-gloved Wallaby and Western Grey Kangaroo.
Birds
Notable Species
Rarities
Check-list
Birds you can see here include:
Malleefowl, Stubble Quail, Australian Shelduck, Australian Wood Duck, Pacific Black Duck, Grey Teal, Australasian Grebe, White-faced Heron, White-necked Heron, Black-shouldered Kite, Square-tailed Kite, Whistling Kite, Spotted Harrier, Brown Goshawk, Collared Sparrowhawk, Wedge-tailed Eagle, Little Eagle, Brown Falcon, Australian Hobby, Peregrine Falcon, Nankeen Kestrel, Painted Buttonquail, Bush Thick-knee, Black-fronted Dotterel, Banded Lapwing, Rock Dove, Laughing Turtle Dove, Spotted Turtle Dove, Common Bronzewing, Brush Bronzewing, Crested Pigeon, Red-tailed Black Cockatoo, Carnaby's Cockatoo, Baudin's Cockatoo, Galah, Purple-crowned Lorikeet, Regent Parrot, Western Rosella, Australian Ringneck, Red-capped Parrot, Mulga Parrot, Elegant Parrot, Pallid Cuckoo, Fan-tailed Cuckoo, Horsfield's Bronze Cuckoo, Shining Bronze Cuckoo, Southern Boobook Owl, Australian Masked-Owl, Barn Owl, Tawny Frogmouth, Australian Owlet-Nightjar, Laughing Kookaburra, Sacred Kingfisher, Rainbow Bee-eater, Rufous Treecreeper, Splendid Fairy-wren, Blue-breasted Fairywren, Spotted Pardalote, Striated Pardalote, White-browed Scrubwren, Weebill, Western Gerygone, Inland Thornbill, Chestnut-rumped Thornbill, Western Thornbill, Yellow-rumped Thornbill, Red Wattlebird, Western Wattlebird, Singing Honeyeater, White-eared Honeyeater, Yellow-plumed Honeyeater, Brown-headed Honeyeater, White-naped Honeyeater, Brown Honeyeater, New Holland Honeyeater, White-cheeked Honeyeater, Tawny-crowned Honeyeater, Western Spinebill, Black Honeyeater, White-fronted Chat, Jacky-winter, Scarlet Robin, Red-capped Robin, Hooded Robin, Western Yellow Robin, White-browed Babbler, Varied Sittella, Crested Shrike-tit, Crested Bellbird, Golden Whistler, Rufous Whistler, Grey Shrike-thrush, Restless Flycatcher, Magpie-lark, Grey Fantail, Willie Wagtail, Black-faced Cuckoo-shrike, White-winged Triller, Black-faced Woodswallow, Dusky Woodswallow, Grey Butcherbird, Australian Magpie, Grey Currawong, Australian Raven, Richard's Pipit, Mistletoebird, Welcome Swallow, Tree Martin, Fairy Martin, Rufous Songlark, Brown Songlark, Silvereye
Other Wildlife
Numbat, Brush-tailed Possum, Western Grey Kangaroo, Black-gloved Wallaby, Echidna, Tammar Wallaby, Woylie, Bilby, Boodie (in compound), Mala (in compound), Mernine (in compound), Thorny Devil, Carpet Python, Dugite
Site Information
History and Use
Areas of Interest
Lions Village and Paddock
Old Mill Dam
Congelin Dam
Lol Gray
Access and Facilities
Activities
External Links