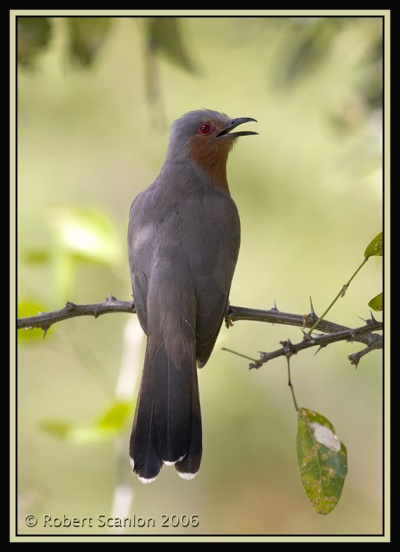 Coccycua pumila

Coccyzus pumilus
Identification
Brown upperparts, face, throat and upper breast rufous, belly and undertail pale cream, underside of tail feathers medium brown with black subterminal and pale terminal bands. Notice the lack of a black bandits mask in face. Eye is red, bill dark, and legs dark.
Distribution
South America: found in Northern Colombia and northern and central Venezuela.
Taxonomy
This is a monotypic species[1].
It has in the past been placed in genus Micrococcyx or in Coccyzus.
Habitat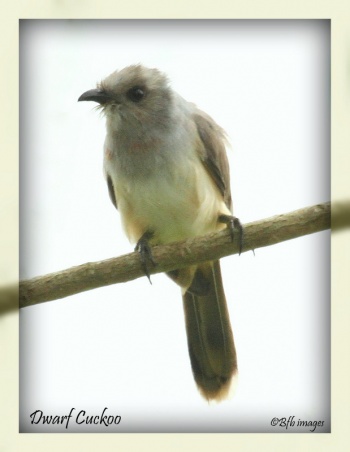 Gallery forest, more open areas with some trees or scrub. Increasing in areas with deforestation. Marshland and agricultural areas.
Behaviour
Usually solitary.
References
Clements, JF. 2011. The Clements Checklist of Birds of the World. 6th ed., with updates to August 2011. Ithaca: Cornell Univ. Press. ISBN 978-0801445019. Spreadsheet available at http://www.birds.cornell.edu/clementschecklist/downloadable-clements-checklist
SACC proposal to use genus Coccycua for this species
Restall et al. 2006. Birds of Northern South America. Yale University Press. ISBN 9780300124156
Ridgely & Gwynne 1989. Birds of Panama. Princeton Paperbacks. ISBN 0691025126
Wikipedia
BF Member observations
Recommended Citation
External Links