Alternative name: Somali Chanting Goshawk
Melierax poliopterus
Identification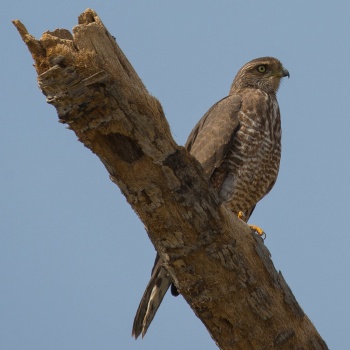 This species is 43–56 cm (17-22 in) long.
The adult has grey upperparts with a white rump. The central tail feathers are black tipped with white, and the outer feathers are barred grey and white.
The head and upper breast are pale grey; the rest of the underparts are finely barred in dark grey and white. Its eyes are red, the bill is mostly red, and it has long red legs.
Similar Species
It is paler than the grey-rumped Dark Chanting Goshawk, Melierax metabates.
Distribution
East Africa: breeds in Somalia and much of Ethiopia, in north and east Kenya and north-west Tanzania. Common in many parts of range.
Taxonomy
This taxon has been treated as a race of Pale Chanting-Goshawk M. canorus by some authors. It is a bird of prey in the family Accipitridae.
This is a monotypic species[1].
Habitat
Desert, semi-desert and dry grassland with scattered trees. Requires trees for nesting and uses termite-hills, telephone poles, fenceposts and treetops as lookout posts. Range overlaps with Dark Chanting-Goshawk in some parts but generally occurs in more arid habitats.
Behaviour
Diet
Their diet consists mostly of lizards, as well as snakes and small birds.
Vocalisation
This is generally a rather quiet bird, but during the breeding season the male makes a series of tuneful whistling calls kleeuu, kleeuu-ku-ku-ku from a tree-top perch.
Juvenile
Recording © by Aladdin
As `Ela, Djibouti, September 2018
References
Clements, J. F., T. S. Schulenberg, M. J. Iliff, D. Roberson, T. A. Fredericks, B. L. Sullivan, and C. L. Wood. 2018. The eBird/Clements checklist of birds of the world: v2018. Downloaded from http://www.birds.cornell.edu/clementschecklist/download/
Handbook of the Birds of the World Alive (retrieved March 2019)
Recommended Citation
External Links