Alternative names: Australasian Grass-Owl; Australian Grass-Owl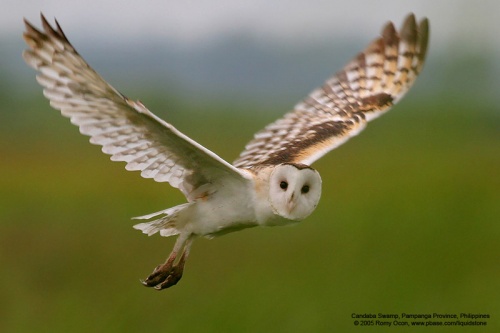 Tyto longimembris
Identification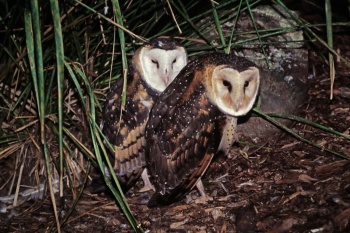 Male: 32-36cm (12½-14¼ in); Female: 35-38cm (13¾-15 in)

Dark brown above, pale spots
Cream or buff below with brown spots
Buff wing bars
White facial disc
Brown mark in front of each eye
Brown iris
Pale brown bill
Very long feathered legs
Grey feet
Distribution
India to southeast Asia, Philippines, and Australia.
Taxonomy
Until recently, the Eastern Grass Owl was considered to be part of African Grass Owl which at that time was known only as "Grass Owl".
Subspecies
There are 6 subspecies[1]:
Montane grasslands of eastern New Guinea
Habitat
Grasslands, canefields and paddy Fields.
Behaviour
Nocturnal.
Diet
Their diet consists almost entirely of rodents.
Breeding
They are ground-nesters, building the platform nest from grass in dense tussocks of grass or sedges. The 3-8 dull white eggs are incubated for about 42 days. The young fledge at about 2 months.
References
Clements, J. F., T. S. Schulenberg, M. J. Iliff, D. Roberson, T. A. Fredericks, B. L. Sullivan, and C. L. Wood. 2017. The eBird/Clements checklist of birds of the world: v2017, with updates to August 2017. Downloaded from http://www.birds.cornell.edu/clementschecklist/download/
Owlpages
Handbook of the Birds of the World Alive (retrieved Nov 2017)
Recommended Citation
External Links