Certhilauda semitorquata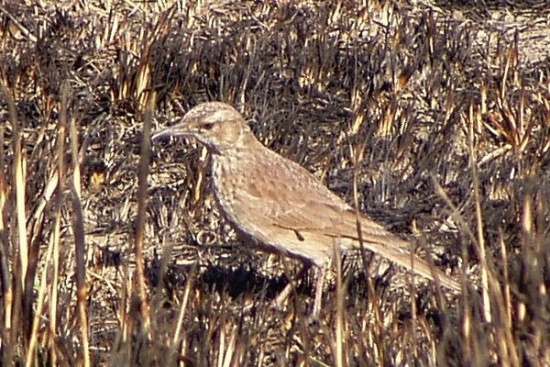 Identification
Length 16-20 cm, mass 30-48 g
Upper parts reddish brown with dark brown streaks. Fairly broad, creamy eyebrow, cheeks and ear-coverts whitish and speckled. Tail and flight feahers dark brown with paler margins. Throat whitish, breast creamy buff, lightly streaked rufous brown, belly creamy buff. Bill fairly short and slightly decurved. Eyes brown to pale grey.
Distribution
Grasslands of eastern South Africa, Lesotho, and western eSwatini.
Taxonomy
The Long-billed Lark complex was split recently based on genetic and morphological differences (Ryan & Bloomer, 1999. Auk 116, 194-208). The Eastern Long-billed Lark is closely related to the Cape Long-billed Lark and Agulhas Long-billed Lark.
Subspecies
Three subspecies[1], [2] :
C. s. transvaalensis: upper parts paler and redder than nominate, wing and tail shorter
Northeastern Northern Cape, Free State, Gauteng, Mpumalanga, western eSwatini and northern KwaZulu-Natal
C. s. algida: most heavily streaked race, upper parts darker and under parts paler than nominate race
Habitat
Upland grassland and grassy shrublands, usually in rocky terrain.
Behaviour
Usually solitary or in pairs.
Diet
Forages mainly on the ground for arthropods, seeds and corms.
Vocalisation
Song is a loud descending whistle.
References
Clements, JF. 2011. The Clements Checklist of Birds of the World. 6th ed., with updates to August 2011. Ithaca: Cornell Univ. Press. ISBN 978-0801445019. Spreadsheet available at http://www.birds.cornell.edu/clementschecklist/downloadable-clements-checklist
Hockey, PAR, WRJ Dean, and PG Ryan, eds. 2005. Roberts' Birds of Southern Africa. 7th ed. Cape Town: John Voelcker Bird Book Fund. ISBN 978-0620340533
Recommended Citation
External Links