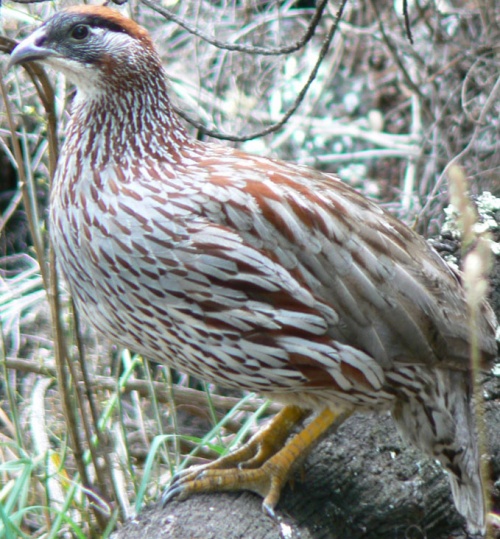 Pternistis erckelii
Identification
28-45cm.
Black forehead
Black stripe above eye
Chestnut crown
Dark grey cheeks
Light buff throat
Grey brown neck, breast and back with chestnut streaks
Black bill
Dark grey-yellow legs and feet
Males have two sets of spurs
Distribution
Africa: Native to northeastern Sudan, and highlands of northern Eritrea and northwestern Ethiopia, but introduced to several parts of the World, including Italy and Hawaii.
Taxonomy
This is a monotypic species[1].
Formerly placed in genus Francolinus.
Habitat
Scrub-covered hillsides, streamside woods and mountain grasslands at 2000 - 3500m altitude in its native range.
Behaviour
Breeding
The 7-12 spotted eggs are incubated for 21 to 23 days.
References
Clements, J. F., T. S. Schulenberg, M. J. Iliff, S. M. Billerman, T. A. Fredericks, B. L. Sullivan, and C. L. Wood. 2019. The eBird/Clements Checklist of Birds of the World: v2019. Downloaded from http://www.birds.cornell.edu/clementschecklist/download/
thebigzoo
gbwf.org
Recommended Citation
External Links