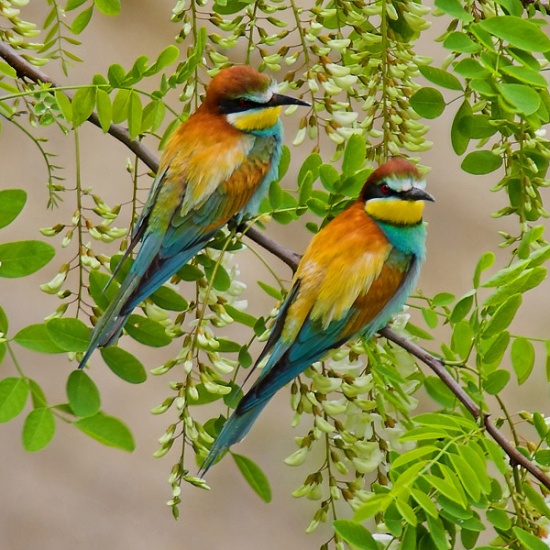 Merops apiaster
Identification
L. 27-29 cm (10½-11½ in), including the two long central tail feathers.
This species, like other bee-eaters, is a richly-coloured, slim bird.
Brown and yellow upper parts
Green Wings
Black beak
Sexes similar
Distribution
Fairly common summer visitor to Europe and western Asia. Breeds over much of Iberia, in southern France and parts of Italy, and from the eastern Adriatic to the Black and Caspian Seas. In Russia breeds north to about 57°N. Found throughout Turkey and the Caucasus, in northern Iraq and in scattered parts of the Middle East. In the Mediterranean breeds on the Balearics, Corsica and Sardinia, Crete and Cyprus. In North Africa breeds widely across the north-west. Further east breeds over much of Iraq and Iran and discontinuously east to western China. Also breeds in parts of southern Africa.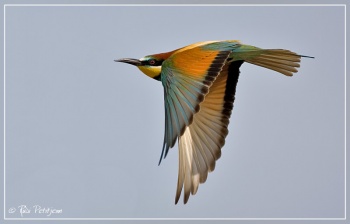 Leaves breeding grounds in August-September to winter in sub-Saharan Africa from Sierra Leone to Ivory Coast and more commonly from Tanzania to eastern South Africa. Returns to breeding grounds in April-May. Occurs on passage throughout southern Europe, North Africa and the Middle East, regular in small numbers on the Canary Islands.
Frequently overshoots on spring migration and rare but annual visitor north to Britain, the North Sea countries and Scandinavia. Has bred in Britain, Scandinavia, Poland, Sicily and the Canary Islands and the first breeding for Switzerland was recorded in 1991. Vagrants recorded on Azores, Madeira and Cape Verde Islands.
A rare spring migrant in Britain with under 40 records in most years, the majority in southern England but also recorded north to Shetland. In Britain has bred in Sussex in 1955, two pairs raising seven young and one pair in Durham in 2002. In the same year breeding also took place in Belgium and the Netherlands, far north of usual range.
Taxonomy
A bird in the bee-eater family (Meropidae).
This is a monotypic species[1].
Habitat
Open countryside with a few trees, also woodland edges and clearings and areas of cultivation.
Behaviour
They can be found feeding and roosting communally.
Diet
As their name suggests, their diet is virtually restricted to bees and wasps.
Breeding
Sandy banks along rivers are used for their breeding colonies. Five to eight white eggs are laid at the beginning of June. Both sexes brood the eggs for about three weeks.
Vocalisation
References
Clements, J. F., T. S. Schulenberg, M. J. Iliff, D. Roberson, T. A. Fredericks, B. L. Sullivan, and C. L. Wood. 2017. The eBird/Clements checklist of birds of the world: v2017, with updates to August 2017. Downloaded from http://www.birds.cornell.edu/clementschecklist/download/
Birds of Iraq
Birdcheck.co.uk
Recommended Citation
External Links
GSearch checked for 2020 platform.1