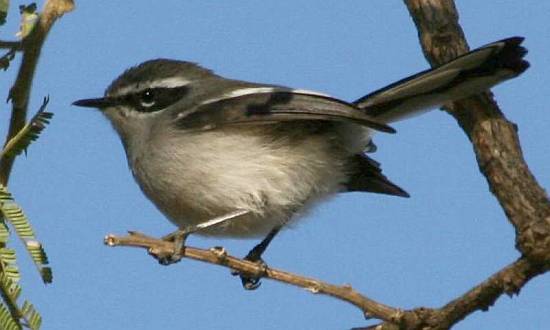 Alternative name: Fairy Warbler
Stenostira scita
Identification
Length 11-12 cm, mass 6 g. Dark blue-grey above, with back lores, ear coverts and cheeks, and white eyebrows and malar stripes. Upper tail coverts and tail black and wings black with white stripes. Underparts white with pink wash on throat and upper belly. Bill, legs and feet black, and eyes dark brown.
Distribution
Lesotho and much of South Africa, other than the moist south and east coast. Breeds in summer in the south of its South African range and Lesotho. A winter migrant to northern and north-eastern South Africa, southern Botswana, and rarely Namibia and Zimbabwe.
Taxonomy
The only species in the genus. Most similar to the Elminia species of Africa, and the Culicicapa species of Asia.
Subspecies
Three subspecies[1]:
S. s. scita, the north-western race, breeds in the Northern Cape and western Western Cape, and migrates northwards in winter
S. s. saturatior, the southern race, breeds in the Karoo and Eastern Cape, winters in the western Free State, and is slightly darker than the nominate race
S. s. rudebecki, the eastern race, breeds in Lesotho, winters to the north and east in South Africa, and is darker than S. s. saturatior.
Habitat
Breeds in fynbos, scrub and on bushy hillsides. Overwinters in thornveld, scrubby hillsides, plantations and gardens.
Behaviour
Usually found singly. Highly active, constanly moves through the foliage of trees and shrubs, usually within 7 m of the ground. Forages for arthropods.
References
Clements, J. F., T. S. Schulenberg, M. J. Iliff, B.L. Sullivan, C. L. Wood, and D. Roberson. 2012. The eBird/Clements Checklist of Birds of the World. 6th ed., with updates to October 2012. Ithaca: Cornell Univ. Press. ISBN 978-0801445019. Spreadsheet available at http://www.birds.cornell.edu/clementschecklist/downloadable-clements-checklist
Hockey, PAR, WRJ Dean, and PG Ryan, eds. 2005. Roberts' Birds of Southern Africa. 7th ed. Cape Town: John Voelcker Bird Book Fund. ISBN 978-0620340533
Recommended Citation
External Links