Myzornis pyrrhoura
Identification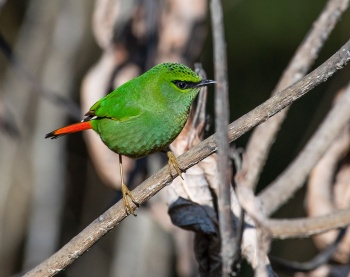 11 - 13cm (4¼-5 in). An unusual, bright green bird:
Bright moss-green plumage
Black eyeline and black spots on crown
Reddish central underparts from throat to vent
Flame-red to yellow wing-slash and white-tipped secondaries and outer primaries
Red sides on black-tipped tail
Slender, downcurved black bill
Females have duller red parts and are often bluer than males.
Juveniles not described.
Distribution
Central and Eastern Himalayas, eastern Assam (India), western Yunnan (China), north and north-eastern Myanmar.
Prefers alpine biotopes from 1600-3600 m. asl., where it has a predilection for juniper, rhododendron and bamboo thickets on sunny hillsides. Localized distribution and travels in small groups (3-4) or with other small babblers.
Scarce and uncommon in most of its range. Most regulary reported in Bhutan and Eaglenest Wildlife Sanctuary in Arunachal Pradesh.
Taxonomy
The only member of this monotypic genus.
The exact taxonomic position of this bird has not been as yet determined. Loosely collocated within Sylviidae, and certainly either in Timaliidae (Babblers) or closely related. Now placed in Paradoxornithidae by Clements.
Habitat
Rhododendron, bamboo, juniper, and other montane forests, as well as tree farms. At 2000 - 3950m in summer. Recorded at 4200m Sela Pass Arunachal Pradesh April 2014
Behaviour
Action
Capable of sustained stationary hovering flight much like sunbirds, can also be seen running up moss-covered tree trunks like a creeper.
Diet
Eats insects, arachnids, berries, and flower nectar.
Breeding
Breeding season from April to June, in Bhutan maybe to September. Nest a globular structure made of moss and placed 1 to 6 m above the ground in moss, on a rock face or in a trunk with moss and lichen.
Movements
Resident species with some altitudinal movement.
Vocalisation
Usually silent, can utter a high-pitched "tsit-tsit".
References
Clements, J. F., T. S. Schulenberg, M. J. Iliff, S. M. Billerman, T. A. Fredericks, B. L. Sullivan, and C. L. Wood. 2019. The eBird/Clements Checklist of Birds of the World: v2019. Downloaded from http://www.birds.cornell.edu/clementschecklist/download/
Del Hoyo, J, A Elliott, and D Christie, eds. 2007. Handbook of the Birds of the World. Volume 12: Picathartes to Tits and Chickadees. Barcelona: Lynx Edicions. ISBN 978-8496553422
Rasmussen, PC and JC Anderton. 2005. Birds of South Asia: The Ripley Guide. Barcelona: Lynx Edicions. ISBN 978-8487334672
Recommended Citation
External Links