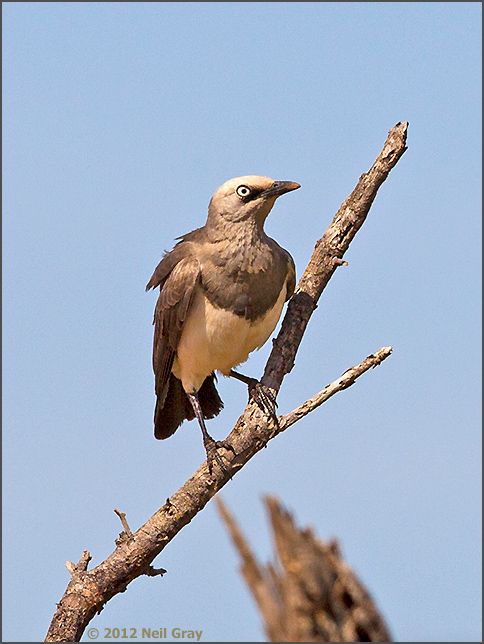 Lamprotornis fischeri
Spreo fischeri
Identification
18cm. A small starling.
Dull ash-grey upperparts with some bronze sheen on back and rump
Cap or whole head paler ash-grey than rest of upperparts, sometimes whitish
Grey upperwing-coverts
Dull bronzy green flight-feathers and tail
Black lores and moustachial stripe
Ash-grey chin, throat and breast
White belly, flanks, thighs and undertail-coverts
Creamy white eye
Black bill and legs
Sexes similar. Juveniles have brownish upperparts with pale feather edges, a brown eye and a yellowish bill.
Distribution
East Africa: found in southern Ethiopia and Somalia to eastern Kenya and north-eastern Tanzania.
Locally common.
Taxonomy
This is a monotypic species which is sometimes placed in genus Spreo or Cosmopsarus.
Habitat
Wooded savanna and dry, open thornveld. Occurs up to 1900m.
Behaviour
Forages in pairs or small flocks on the ground. Associates loosely with Golden-breasted Starling and Wattled Starling.
Diet
Feeds mainly on insects, takes also berries.
Breeding
A monogamous species, breeding co-operative with some helpers. The nest is a grass dome placed 2,5m above the ground in a thorn tree. Lays 4 eggs.
Movements
Presumably a resident species with some local movements.
References
Clements, J. F., T. S. Schulenberg, M. J. Iliff, B.L. Sullivan, C. L. Wood, and D. Roberson. 2013. The eBird/Clements checklist of birds of the world: Version 6.8., with updates to August 2013. Downloaded from http://www.birds.cornell.edu/clementschecklist/download/
Del Hoyo, J, A Elliott, and D Christie, eds. 2009. Handbook of the Birds of the World. Volume 14: Bush-shrikes to Old World Sparrows. Barcelona: Lynx Edicions. ISBN 978-8496553507
Recommended Citation
External Links