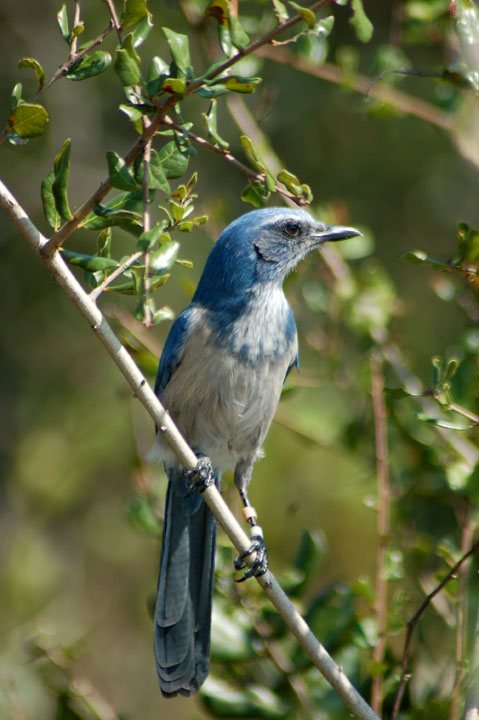 Alternative name: Florida Jay
Aphelocoma coerulescens
Identification
This jay shows only shades of light gray and blue:
Adult
Long blue tail
Blue undertail coverts
Blue wings
Blue neck and head
Whitish supercilium that connects over the bill as a white forehead
White stripes on the throat
Pale gray mantle
Pale gray underside
Legs and bill are dark
Juvenile
Lacks blue on head and neck and wing coverts
Darker on the back
Similar Species
Within range, the most similar species is the Blue Jay, which has shorter tail, blue back at all ages, white wing-bars, blue crest, and black markings in the head and thoat areas.
Very similar to the other Scrub-Jays, but they are all in the western U.S.
Distribution
Mid to south parts of the Florida peninsula (more to the Atlantic than the Gulf side) where it is common but localized.
Taxonomy
This is a monotypic species.
Has been considered conspecific with Island Scrub Jay, California Scrub Jay and Woodhouse's Scrub Jay in the past.
Habitat
Scrublands, especially with scrub oaks rather than pines.
Behaviour
An inquisitive and intelligent species, the most striking attribute of the Florida Scrub Jay's behavior is its remarkable tameness. Scrub Jays show almost no fear of people and will even take peanuts from people's hands and lips. Scrub Jays will also steal silverware and other shiny objects in a manner similar to the American Crow.
Diet
Omnivorous. Feeds on berries, acorns, pine seeds, arthropods like grasshoppers, wasps or bees, small vertebrates like snakes and lizards, nestling birds, eggs, mice and carrion.
Breeding
Breeding seaons from March to June. Pairs stay together several years in their territory. Helpers usually involved (yearling males or femals from previous breeding season). The bulky nest is made of twigs and placed around 1m above the ground on the main stem of a scrub oak. Lays 1 - 4 eggs.
References
Clements, J. F., T. S. Schulenberg, M. J. Iliff, B.L. Sullivan, C. L. Wood, and D. Roberson. 2013. The eBird/Clements checklist of birds of the world: Version 6.8., with updates to August 2013. Downloaded from http://www.birds.cornell.edu/clementschecklist/download/
Del Hoyo, J, A Elliott, and D Christie, eds. 2009. Handbook of the Birds of the World. Volume 14: Bush-shrikes to Old World Sparrows. Barcelona: Lynx Edicions. ISBN 978-8496553507
Recommended Citation
External Links