Dendronanthus indicus
Identification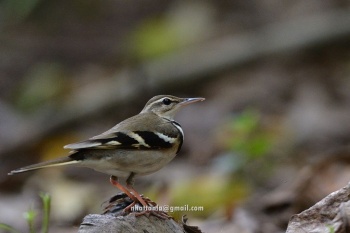 16–18 cm (6¼-7 in)
Broad black crescent breast patch, separated from broken black crescent patch by creamy white breast band together with whitish wing bars diagnostic. Upperparts olive-brown with thin whitish supercilium. Underparts creamy white.
Distribution
Breeding in far eastern Russia, Korea and northern China; wintering south to Indian subcontinent and southeast Asia to the Greater Sundas, Indonesia.
Taxonomy
This is a monotypic species[1].
Habitat
Forests, forest edges, mangroves, plantation and scrubs.
Behaviour
Usually solitary or in pairs, foraging on the ground. Will perch on trees. Has been observed roosting communally in large numbers in scrubland.
Breeding
The nest is formed from rootlets, grass, leaves and twigs, held together by moss and webs, close to the trunk of a large tree. The 4 to 5 eggs are incubated by the female; the male helping to feed the brood.
Diet
Their diet consists of small insects, worms and snails etc. They are also known to fly catch from a perch.
Action
Frequently sways body side-ways in a cork screw like motion.
Vocalisation
Call: a sharp metallic ping.
References
Clements, J. F., T. S. Schulenberg, M. J. Iliff, D. Roberson, T. A. Fredericks, B. L. Sullivan, and C. L. Wood. 2016. The eBird/Clements checklist of birds of the world: v2016, with updates to August 2016. Downloaded from http://www.birds.cornell.edu/clementschecklist/download/
ArKive
Recommended Citation
External Links