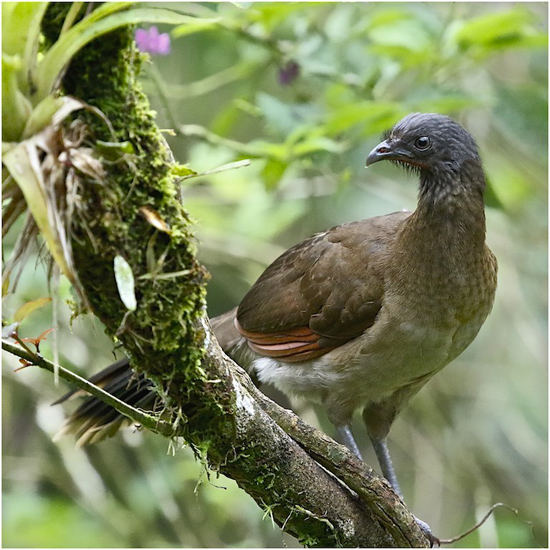 Ortalis cinereiceps
Identification
46–58 cm (18-22¾ in)

Greyish head
Brownish-grey tail, with buff tips
Brown overall plumage with rufous on primaries
Red skin fold is often visible on the throat
Distribution
Central and South America: found from tropical eastern Honduras to north-western Colombia
Taxonomy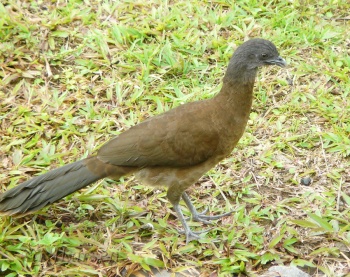 This is a monotypic species[1].
This taxon is considered a subspecies of Chestnut-winged Chachalaca by some authors[2]
Three subspecies are recognised by some authors: O. c. cinereiceps, O. c. olivacea and O. c. chocoensis[2]
Habitat
Rain forest edges, riparian, secondary humid forest, gardens. Observed at heights around 622 m.
Behaviour
Mostly in flocks which flies one after another from one spot to the next.
Diet
Their diet consists of fruit and berries.
Vocalisation
Does not have a "Chachalaca" sound
References
Clements, J. F., T. S. Schulenberg, M. J. Iliff, D. Roberson, T. A. Fredericks, B. L. Sullivan, and C. L. Wood. 2017. The eBird/Clements checklist of birds of the world: v2017, with updates to August 2017. Downloaded from http://www.birds.cornell.edu/clementschecklist/download/
Avibase
Ridgely & Gwynne 1989. Birds of Panama. Princeton Paperbacks. ISBN 0691025126
Garrigues and Dean 2007. The birds of Costa Rica - a field guide. Cornell University Press. ISBN 978-0-8014-7373-9
Handbook of the Birds of the World Alive (retrieved June 2014)
Recommended Citation
External Links