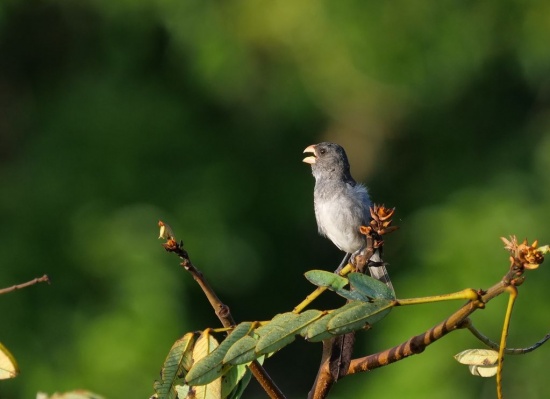 Sporophila intermedia
Identification
11 cm (4¼ in)
Pale bill
Rounded culmen
Grey overall plumage

Females and young birds brownish with dusky bills
Similar Species
Distribution
Trinidad and South America
South America: Colombia, Venezuela, Guyana, Brazil.
On a local scale, Gray Seedeater and Wing-barred Seedeater seems to exclude each others presence.
Taxonomy
Gray Seedeater, Variable Seedeater, Wing-barred Seedeater, and Caqueta Seedeater are best viewed as a superspecies of closely related species.
Subspecies
There are 3 subspecies[1]:
S. i. bogotensis (agustini):
Colombia (Western Andes, Magdalena and Cauca valleys)
Colombia (valley of the Río Anchicayá in Valle)
Habitat
Urban and rural regions. Grassy areas, dry to humid habitat, gallery forest borders.
Behaviour
Diet
Their main diet consists of seeds, with nectar and small arthropods also taken.
References
Clements, J. F., T. S. Schulenberg, M. J. Iliff, D. Roberson, T. A. Fredericks, B. L. Sullivan, and C. L. Wood. 2018. The eBird/Clements checklist of birds of the world: v2018. Downloaded from http://www.birds.cornell.edu/clementschecklist/download/
Avibase
SACC proposal to recognize Caqueta Seedeater
Handbook of the Birds of the World Alive (retrieved May 2014)
Gray Seedeater (Sporophila intermedia), In Neotropical Birds Online (T. S. Schulenberg, Editor). Cornell Lab of Ornithology, Ithaca, NY, USA. retrieved from Neotropical Birds Online: https://neotropical.birds.cornell.edu/Species-Account/nb/species/grysee1
Recommended Citation
External Links