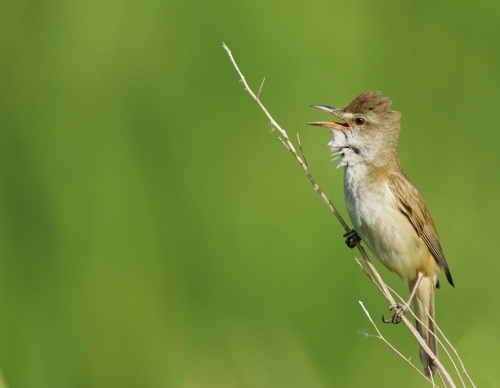 Acrocephalus arundinaceus
Identification
Length 19–20 cm (7½-7¾ in), weight 22-31 g
Brown upperparts
Buffy-white underparts
Bold creamy supercillium
Long thick bill
Legs brown/grey or pinkish-brown
Similar Species
Much larger than Common Reed Warbler and has a longer, thicker bill.
Distribution
Found in most of Africa, Europe, Middle East, India, and Asia including western Siberia and western China
Taxonomy
Oriental Reed Warbler Acrocephalus orientalis is different enough that it has now been recognised as a separate species. Historically, Basra Reed Warbler Acrocephalus griseldis was also sometimes treated as conspecific.
Subspecies
Two subspecies are accepted[1]:
Habitat
Dense reed beds beside lakes, rivers and canals.
Behaviour
Breeding
Nests colonially. A suspended, basket-shaped nest (similar to a Reed Warbler's) at the edge of the reeds near the water.
Flight
Long flight outline. Spreads the tail prior to landing. Dives headlong into the reeds. Hops; upright thrush-like posture on the ground.
Vocalisation
Song: very loud, harsh and sustained trr, trr, karra, karra karra, gurrk gurkk gurkk, krik krik krik, karra karra karra... etc
References
Clements, J. F., T. S. Schulenberg, M. J. Iliff, D. Roberson, T. A. Fredericks, B. L. Sullivan, and C. L. Wood. 2018. The eBird/Clements checklist of birds of the world: v2018. Downloaded from http://www.birds.cornell.edu/clementschecklist/download/
Collins Field Guide 5th Edition
Collins Bird Guide ISBN 0 00 219728 6
Recommended Citation
External Links
GSearch checked for 2020 platform.1