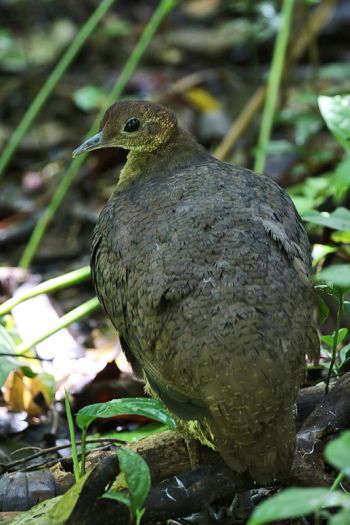 Tinamus major
Identification
A large (46cm.) tinamou
Olive-brown above spotted and barred with black, paler and greyer below, flanks barred black, belly whitish and undertail cinnamon. Crown and neck rufous, occipital crest and supercilium blackish. Legs blue-grey.
Distribution
From southern Puebla, Vera Cruz and Oaxaca in southern Mexico to Panama, and in northern South America from Colombia and Venezuela south to northern Bolivia and western Brazil. Resident.
Taxonomy
Subsecies
There are 12 subspecies[1]: Central American Races:

South American Races:

Habitat
Rainforest and cloud forest from sea-level up to 1,500m and often near water. Nests at the base of a tree and roosts in trees. Fairly common over much of range and less secretive than some other tinamous, though more often heard than seen, usually solitary.
Behaviour
Diet
They eat a variety of fruit, seeds and berries.
Vocalisation
Plaintive tremulous paired whistles, uttered most often at dawn and dusk.
References
Clements, J. F., T. S. Schulenberg, M. J. Iliff, B.L. Sullivan, C. L. Wood, and D. Roberson. 2013. The eBird/Clements checklist of birds of the world: Version 6.8., with updates to August 2013. Downloaded from http://www.birds.cornell.edu/clementschecklist/download/
Handbook of the Birds of the World Alive (retrieved August 2014)
Recommended Citation
External Links