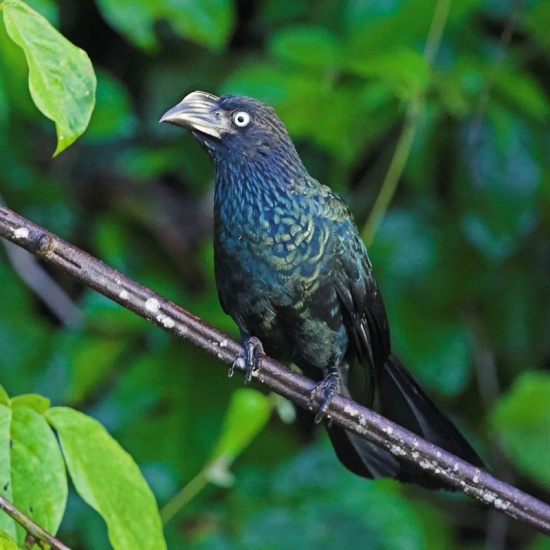 Crotophaga major
Identification
46cm.
Sleek glossy blue-black plumage with green feather edges
Black bill compressed with high-arched ridge at base of upper mandible
White eye
Juveniles with brown iris.
Similar species
Smooth-billed Ani and Groove-billed Ani have dark eyes.
Distribution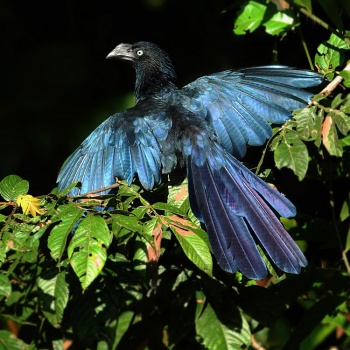 Panama to western Ecuador, and east of the Andes to Argentina, Brazil, and Trinidad.
Fairly common in its large range.
Taxonomy
This is a monotypic species.
Habitat
Tropical evergreen forest, often near water. Also in mangroves and marshes. In the lowlands of Guianas also in villages.
Occurs from lowlands up to 800m, but mainly below 500m. Sometimes much higher (up to 2600m), probably on migration.
Behaviour
Diet
Feeds mainly on insects. Takes also small lizards, fruit, berries and seeds.
Forages in flocks on the ground and in the canopy. Follows groups of squirrel monkeys which flush insects, also sometimes follows army ants.
Breeding
Breeding season May to December in Guyana, April to September in Suriname. A cooperative breeder, nesting in loose colonies.
The nest is a bulky mass made of sticks and green leaves. It's placed on branches over water. Clutch size 2 to 3 eggs in Panama, 4 to 5 in Argentina.
Movements
A resident species with some local movements.
References
Clements, J. F., T. S. Schulenberg, M. J. Iliff, D. Roberson, T. A. Fredericks, B. L. Sullivan, and C. L. Wood. 2014. The eBird/Clements checklist of birds of the world: Version 6.9., with updates to August 2014. Downloaded from http://www.birds.cornell.edu/clementschecklist/download/
Del Hoyo, J, A Elliot, and J Sargatal, eds. 1997. Handbook of the Birds of the World. Volume 4: Sandgrouse to Cuckoos. Barcelona: Lynx Edicions. ISBN 978-8487334221
Recommended Citation
External Links