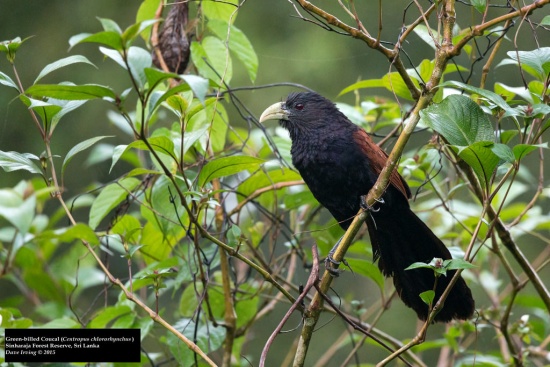 Centropus chlororhynchos
Identification
43 - 46cm.
Black head, body and tail
Neck and tail with purple gloss
Chestnut wings
Ivory to pale green bill
Sexes alike but females are larger. Juveniles are similar to adults but their eye is grey (not red) and the bill is greenish with a dark grey base and culmen.
Similar species
Similar to the more common Greater Coucal. Note the green bill, the darker chestnut wings and the purple gloss (blue in Greater Coucal).
Distribution
Endemic to Sri Lanka. Found locally in wet zone of south-western Sri Lanka, especially in Sinharaja Rain Forest and at Kitulgala.
A rare and still declining species, threatened by continued loss of forest to agriculture.
Taxonomy
This is a monotypic species[1].
The scientific name is sometimes spelled chlororhynchus.
Habitat
Found in humid high evergreen forests with dense undergrowth in the wet zone of the island. Often in bamboo and rattan cane. From lowlands up to 800m.
Behaviour
A very shy and elusive bird, better known by its calls than by sight.
Diet
Ominvorous. Forages on the ground and in trees and creepers.
Breeding
Breeding season mainly May to July. The nest is domed or globe-shaped and made of twigs, roots and grass. It's built near the ground. Lays 2 to 3 eggs.
Movements
This is a resident species.
Vocalisation
Recorded by Andrew Whitehouse
Kithulgala, Sri Lanka, July 2010
References
Clements, J. F., T. S. Schulenberg, M. J. Iliff, D. Roberson, T. A. Fredericks, B. L. Sullivan, and C. L. Wood. 2014. The eBird/Clements checklist of birds of the world: Version 6.9., with updates to August 2014. Downloaded from http://www.birds.cornell.edu/clementschecklist/download/
Del Hoyo, J, A Elliot, and J Sargatal, eds. 1997. Handbook of the Birds of the World. Volume 4: Sandgrouse to Cuckoos. Barcelona: Lynx Edicions. ISBN 978-8487334221
Avibase
BF Member observations
Recommended Citation
External Links