Alternative name: Australian Yellow Oriole (or just Yellow Oriole, a name in international checklists used for Icterus nigrogularis of South America)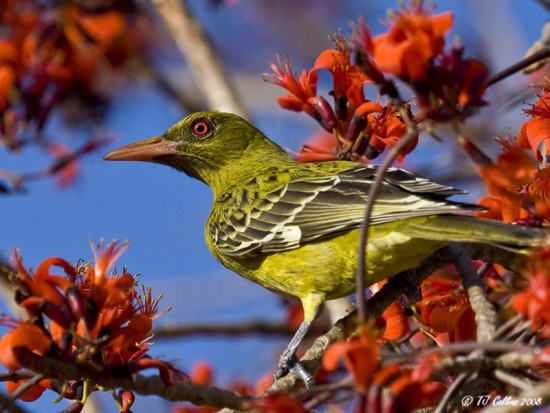 Identification
Adult has reddish bill, no eye-brow and is less striped; immatures have dark bill, pale eye-brow, and stronger stripes on especially underside.
Similar species
Distribution
Asia and Australasia
Southeast Asia: Indonesia, Lesser Sundas, East Timor, New Guinea
Australia: Northern Territory, Queensland, Western Australia
Taxonomy
Subspecies
There are 4 subspecies[1]:
Two additional subspecies (migrator and muelleri) are not generally recognised.[2]
Habitat
Woodlands, river jungle and suburbs
Behaviour
Diet
Their main diet consists of fruit, supplemented with nectar, seeds and insects. Occasionally reports of nestlings being taken.
References
Clements, J. F., T. S. Schulenberg, M. J. Iliff, D. Roberson, T. A. Fredericks, B. L. Sullivan, and C. L. Wood. 2014. The eBird/Clements checklist of birds of the world: Version 6.9., with updates to August 2014. Downloaded from http://www.birds.cornell.edu/clementschecklist/download/
Avibase
Pizzey, G. & Knight, F. 1997. Birds of Australia (Collins Field Guide). HarperCollins Publishers, London. ISBN 0-00-220132-1
Handbook of the Birds of the World Alive (retrieved October 2014)
Recommended Citation
External Links