Alternative name: Bleating Warbler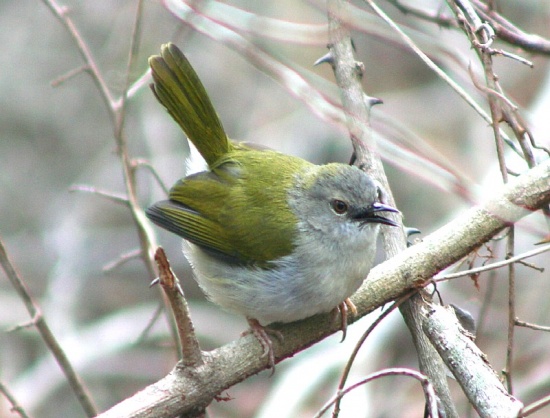 Camaroptera brachyura
Includes Hartert's Camaroptera, Grey-backed Camaroptera
Identification
Length 10-11 cm
A small, active, noisy warbler with olive-green wings and olive-green or grey mantle, back and tail. The head is grey and the under parts are white.
Distribution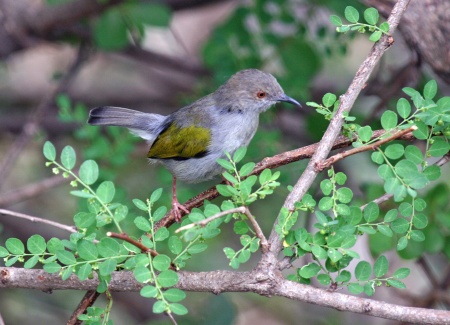 Most of sub-Saharan Africa.
Taxonomy
Subspecies
17 subspecies recognized in three groups (sometimes accepted as full species)[1]
Green-backed Camaroptera:

Hartert's Camaroptera:

C. b. harterti in the escarpment forests of west-central Angola

Grey-backed Camaroptera:
Habitat
Dense thicket and forest understorey.
Behaviour
Diet
Their diet consists almost entirely of insects, including spiders, ants, beetles, flies and also caterpillars.
Vocalisation
Calls include a loud, snapping bidup-bidup-bidup and a nasal, "bleating" neeehh.
References
Clements, J. F., T. S. Schulenberg, M. J. Iliff, S. M. Billerman, T. A. Fredericks, B. L. Sullivan, and C. L. Wood. 2019. The eBird/Clements Checklist of Birds of the World: v2019. Downloaded from http://www.birds.cornell.edu/clementschecklist/download/
Sinclair, I and P Ryan. 2003. Birds of Africa South of the Sahara. Princeton: Princeton Univ. Press. ISBN 978-0691118154
Handbook of the Birds of the World Alive (retrieved November 2014)
Recommended Citation
External Links