Alternative name: Red-headed Cisticola
Cisticola subruficapilla
Identification
13-14 cm
Dullish dark rufous crown
Reddish head
Rufous panel in the folded wing
Grey short straight bill
Pinkish brown feet and legs
Light brown eye.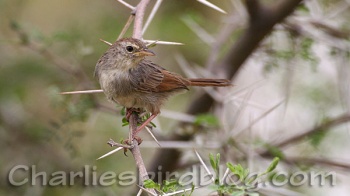 The southern form, (southern Namibia and South Africa):
Grey back streaked black
White underparts
The northern subspecies:
Brown back streaked black
Buff underparts.
Sexes similar, but juveniles are duller with a yellow face
Distribution
Angola, Namibia and western South Africa. Associated with lowland fynbos, karoo scrub, and arid hillsides - typically in drier habitats than the closely related Wailing Cisticola.
Taxonomy
Cisticola subruficapilla has six subspecies:[1][2]
Southern Western Cape Province
Habitat
Shrublands in fynbos, renosterveld and Karoo; drainage lines with large tufts of Bamboo Grass; grassy patches on rocky hills in the Karoo; also shrubby and grassy areas on estuarine flats.
Behaviour
Diet
Forages low down in vegetation and on bare ground. Eats insects; termites, beetles, beetle larvae, caterpillars and small grasshoppers.
Breeding
Solitary nester building ball-shaped nests with side entrance out of dry grass and shreds of bark, hairy flower stalks, cobwebs and grass leaves. The clutch of 2 - 5 eggs being laid mainly between August and December.
Vocalisation
The call is a soft prrrrt followed by a sharp wheee phweee.
References
Clements, J. F., T. S. Schulenberg, M. J. Iliff, D. Roberson, T. A. Fredericks, B. L. Sullivan, and C. L. Wood. 2014. The eBird/Clements checklist of birds of the world: Version 6.9., with updates to August 2014. Downloaded from http://www.birds.cornell.edu/clementschecklist/download/
Hockey, PAR, WRJ Dean, and PG Ryan, eds. 2005. Roberts' Birds of Southern Africa. 7th ed. Cape Town: John Voelcker Bird Book Fund. ISBN 978-0620340533
Wikipedia
Recommended Citation
External Links