Alternative names: Grey-headed Fishing Eagle, Greater Fishing Eagle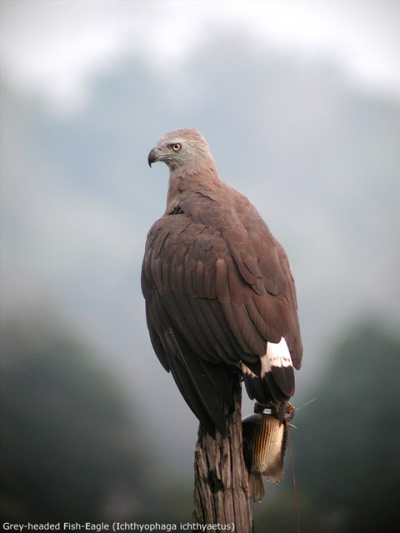 Haliaeetus ichthyaetus
Identification
61–75 cm (24-29½ in)
Brownish -grey overall plumage
Smallish grey head
White belly
Grey bill
Mainly white tail with broad black subterminal band
Distribution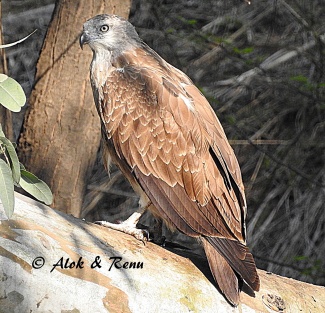 Southern Asia: found in India south of the Himalayas, and Sri Lanka, and from Burma east to northern Vietnam and south through the Malay Peninsula. Also occurs in the Philippines, Sumatra, Java, Borneo and Sulawesi.
Rare in western Java and there are no recent records from the east.
Taxonomy
This is a monotypic species[1].
It was formerly placed in the genus Ichthyophaga.
Habitat
Slow running forested rivers and streams in lowlands, lakes, lagoons, wooded swamps and rocky mountains. Also occasionally seen along coasts and estuaries.
Behaviour
Diet
Their diet consists largely of fish, with the addition of some small birds and mammals such as squirrels.
They have been observed walking river edges in the search of fish.
Movements
A resident species.
Gallery
Click on photo for larger image
References
Clements, J. F., T. S. Schulenberg, M. J. Iliff, D. Roberson, T. A. Fredericks, B. L. Sullivan, and C. L. Wood. 2017. The eBird/Clements checklist of birds of the world: v2017, with updates to August 2017. Downloaded from http://www.birds.cornell.edu/clementschecklist/download/
Handbook of the Birds of the World Alive (retrieved October 2015)
BF Member observations
Recommended Citation
External Links