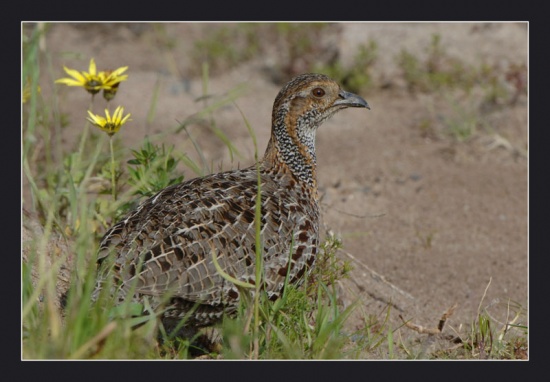 Scleroptila afra
Identification
Length 30-33 cm (11¾-13 in), mass 354-539 g, males slightly larger than females.

Similar Species
Similar to other Francolins; range overlaps with Red-winged Francolin, Orange River Francolin, and (marginally) Shelley's Francolin. However, the red on the wings is confined to the outer wings (wings greyer than other species), and the throat is grey and freckled (white or buff in other species). Also differs from Shelley's Francolin in having narrow rather than bold barring on the belly.
Distribution
South Africa and Lesotho.
Taxonomy
This is a monotypic species[1].
Was considered conspecific with Moorland Francolin, but molecular studies indicate that more closely related to Orange River Francolin, Shelley's Francolin and Finsch's Francolin.
Formerly placed in genus Francolinus.
Habitat
Upland grassland, Karoo shrubland, and fynbos. Frequents shorter grassland on plateux, ridge tops and shelves rather than steep slopes or valley bottoms; displaced by Red-winged Francolin in tall grassland.
Behaviour
Generally in pairs in breeding season, and in coveys of up to 20 individuals in winter.
Usually located by call (in the early morning) or when flushed.
Diet
Food is mainly small bulbs, with invertebrates being more important when rearing chicks.
Breeding
Monogamous and territorial. The nest is a scrape in the ground, lined with grass and well concealed under a grass tuft. Four to eight eggs are laid July-December (winter rainfall areas in Western Cape) or August-March (summer rainfall areas).
References
Clements, J. F., T. S. Schulenberg, M. J. Iliff, D. Roberson, T. A. Fredericks, B. L. Sullivan, and C. L. Wood. 2015. The eBird/Clements checklist of birds of the world: v2015, with updates to August 2015. Downloaded from http://www.birds.cornell.edu/clementschecklist/download/
Hockey, PAR, WRJ Dean, and PG Ryan, eds. 2005. Roberts' Birds of Southern Africa. 7th ed. Cape Town: John Voelcker Bird Book Fund. ISBN 978-0620340533
Recommended Citation
External Links