Psophocichla litsipsirupa
Turdus litsipsirupa
Identification
Length 22-24 cm (8½-9½ in); mass 71-84 g. A thrush of open habitats with an upright stance and shortish tail.
Upper parts pale grey-brown; bold black-and-white face markings; underparts white or off-white with distinct black teardrop spots.
Similar species
The Spotted Ground-Thrush differs in being a forest thrush with two bold wing-bars, a longer tail and a more horizontal stance. The Song Thrush also has a longer tail and a more horizontal stance, and has brown ear-coverts.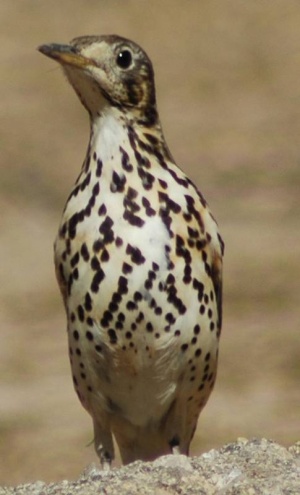 Distribution
Southern and eastern Africa
Western Africa: Democratic Republic of Congo, Angola
Eastern Africa: Eritrea, Ethiopia, Tanzania, Zambia, Mozambique, Malawi
Southern Africa: Namibia, Botswana, Zimbabwe, South Africa, KwaZulu-Natal, Swaziland
Taxonomy
This species seems to be the closest relative of the Turdus thrushes.
Subspecies
Four subspecies are recognized:1,2
Habitat
Open woodland, savanna and montane grassland.
Behaviour
Forages on the ground in short grass, burnt grass or on bare soil; eats invertebrates.
Breeding
Monogamous; co-operative breeding recorded. The nest is a cup of plant material built in a tree, 2-9 m above the ground. Two to four eggs are laid and incubated for 14-15 days by both sexes. Parasitised by African Cuckoo.
References
Clements, J. F., T. S. Schulenberg, M. J. Iliff, D. Roberson, T. A. Fredericks, B. L. Sullivan, and C. L. Wood. 2015. The eBird/Clements checklist of birds of the world: v2015, with updates to August 2015. Downloaded from http://www.birds.cornell.edu/clementschecklist/download/
Hockey, PAR, WRJ Dean, and PG Ryan, eds. 2005. Roberts' Birds of Southern Africa. 7th ed. Cape Town: John Voelcker Bird Book Fund. ISBN 978-0620340533
Sinclair, I and P Ryan. 2003. Birds of Africa South of the Sahara. Princeton: Princeton Univ. Press. ISBN 978-0691118154
Recommended Citation
External Links