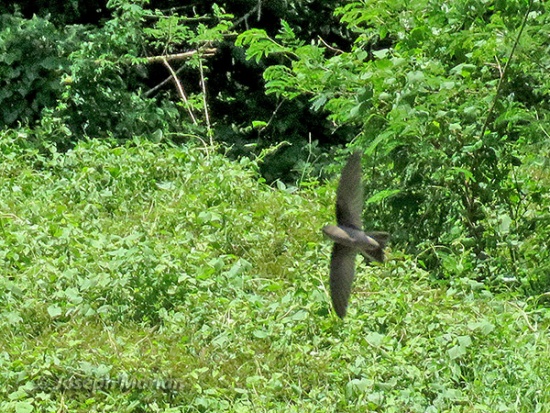 Alternative names: Guam Cave Swiftlet, Guam Swiftlet, Micronesian Swiftlet (not to confuse with Aerodramus inquietus!)
Aerodramus bartschi
Identification
At 11 cm (4¼ in) a rather small Swiftlet and the only Swiftlet in its range.
Warm brown upperparts with uniform rump
Darger grey underparts
Silver-grey throat
Slightly forked tail
Tarsi unfeathered or just lightly feathered
Distribution
Found in the South Pacific on the Northern Mariana Islands (Saipan, Guam and Tinian). Introduced to O'ahu (Hawaii).
Formerly common but populations have decreased in recent years. Now classified as endangered. Very small population on O'ahu.
Taxonomy
This is a monotypic species[1].
Like other Aerodramus Swiftles this species is often placed in Collocalia. Formerly considered conspecific with Mossy-nest Swiftlet, Palau Swiftlet, Uniform Swiftlet and Caroline Swiftlet. The five species form now a superspecies.
Monotypic.
Habitat
Over different habitat, forested, cleared and on coast.
Behaviour
Diet
Flying insects. Often gregarious in evenings when large groups feed very low, not moving up and away until nightfall.
Breeding
Breeding noted from March to May. Nests in colonies in caves, presumed to be capable of echolocation. Cylindrical nest made with moss and hold together with lots of hardened saliva.
Vocalisation
Weak chirps and twitterings
Movements
Known to make nomadic movements and beeing absent on certain times on some islands, gathering on others.
References
Clements, J. F., T. S. Schulenberg, M. J. Iliff, S. M. Billerman, T. A. Fredericks, B. L. Sullivan, and C. L. Wood. 2019. The eBird/Clements Checklist of Birds of the World: v2019. Downloaded from http://www.birds.cornell.edu/clementschecklist/download/
BirdLife International 2016. Aerodramus bartschi. The IUCN Red List of Threatened Species 2016: e.T22728583A94990600. Downloaded on 26 October 2019.
Chantler, P., Boesman, P. & Kirwan, G.M. (2019). Mariana Swiftlet (Aerodramus bartschi). In: del Hoyo, J., Elliott, A., Sargatal, J., Christie, D.A. & de Juana, E. (eds.). Handbook of the Birds of the World Alive. Lynx Edicions, Barcelona. (retrieved from https://www.hbw.com/node/55282 on 27 October 2019).
Chantler, P., & Driessens, G. (1995) Swifts: A Guide to the Swifts and Treeswifts of the World. Pica Press.
Pratt, H.D., Bruner, P., and Berrett, D.G. (1987) A Field Guide to the Birds of Hawaii and the Tropical Pacific. Princeton University Press
Recommended Citation
External Links