Aquila gurneyi
Identification
66–86 cm, 26-33.9 inches.
Wingspan 165–185 cm. Immature female 3060 g
Adult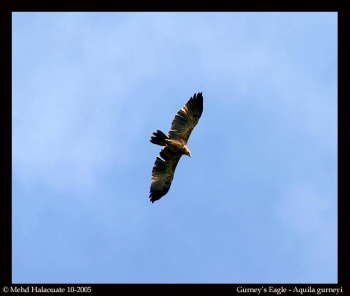 Paler tarsal feathers
Slimmer legs
Shorter wings
Longer tail
Juvenile
Browner above with grey brown marbling
Underparts getting lighter with creamy abdomen and legs
Third and fourth year plumage has less marbled upperparts, lighter brown or cream head and underparts
Similar species
Less yellow feet
Shorter, less rounded tail
More reddish brown in colour
Slighty smaller (70-80 cm)
Wings are narrower at the base giving a more paddle shaped appearance
Variable amounts of white on the rump, around the beak, and eyes
A more distinct white patch at the base of the primaries
Male is between 2% and 11% smaller than female (wingspan 510–520 mm, 530–568 mm in female)
Bare parts darker yellow
Iris darker yellow, brown changeing to pale yellow in Juvenile
Distribution
New Guinea, the Aru Islands and northern Maluku (Moluccas). Recorded in the Cyclops Mountains, on Biak Island and the Vogelkop Peninsula in Irian Jaya and near Vanimo in Papua New Guinea.
Taxonomy
This is a monotypic species[1].
Habitat
Coastal and swamp forests and forest edges.
Behaviour
Solitary or in pairs, occasionally in threes, but this thought to be family groups
Diet
Small mammals, such as cuscus and woodland possums. Forages by soaring low over the forest canopy and open spaces. Is known to use thermals along cliff edges and hillsides.
Breeding
They are known to build a large stick nest high in a tree, but little other information is available.
Vocalisation
A nasally medium to high pitched, descending piping, repeated every second
References
Clements, J. F., T. S. Schulenberg, M. J. Iliff, D. Roberson, T. A. Fredericks, B. L. Sullivan, and C. L. Wood. 2015. The eBird/Clements checklist of birds of the world: v2015, with updates to August 2015. Downloaded from http://www.birds.cornell.edu/clementschecklist/download/
Handbook of the Birds of the World Alive (retrieved August 2015)
Raptors of the World, James Ferguson-Lees and David Christie. ISBN 9780713669572
Recommended Citation
External Links