Alternative Names: Cape Griffon Vulture, Cape Vulture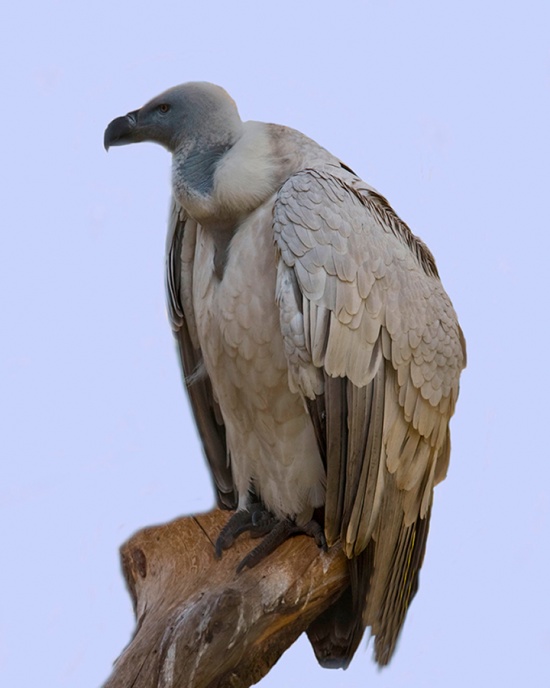 Gyps coprotheres
Identification
Length 1.0-1.2 m, mass 7.5-9.5 kg, females slightly larger than males.
Adult: Skin of the head and the bare neck, crop patch and two 80-mm breast patches are bluish; the face is bare, and the rest of the head has sparse white, hair-like feathers. Body feathers vary from off-white to russet, and the tail is dark brown. The flight feathers are mostly dark brown to black, the secondaries being whitish and tipped black below. The underwing coverts are off-white, the greater coverts often each have a black spot.
Distribution
Southern Africa: Occurs in eastern South Africa, Namibia, Botswana, Lesotho and Swaziland. Less common in western South Africa, southern Mozambique and Zimbabwe.
Rarely occurs north to Zambia and Angola.
Taxonomy
This is a monotypic species[1].
Habitat
Searches for carrion over a wide variety of habitats including savanna and grassland. Roosts and nests colonially on ledges on cliff-faces in mountains.
Status
Range and numbers have declined in recent decades due to lack of carrion and direct persecution. Classified as Vulnerable in the 2007 IUCN Red List (Birdlife International, 2007).
Behaviour
Adults are normally resident but may move up to 750 km from nesting site when not breeding. Young birds disperse widely. This was recently highlighted in a satellite-tracking study in which an immature female flew more than 64 000 kilometres, and foraged as far as 1 200 km from its home colony (Mendelsohn, 2007).
Breeding
Monogamous. Usually nests in colonies on cliffs. The nest is built using sticks and grass, and is up to 1.0 m in diameter and 30 cm high. A single egg (rarely two) is laid May-June. Nest predators include Chacma Baboons which take eggs, and Verreaux's Eagles which take nestlings.
References
Clements, JF. 2011. The Clements Checklist of Birds of the World. 6th ed., with updates to August 2011. Ithaca: Cornell Univ. Press. ISBN 978-0801445019. Spreadsheet available at http://www.birds.cornell.edu/clementschecklist/downloadable-clements-checklist
BirdLife International
Mendelsohn J 2007. January 2007 update on Cape Vultures fitted with satellite transmitters in Namibia. Downloaded from BirdInfo.co.za on 11 February 2008.
Hockey, PAR, WRJ Dean, and PG Ryan, eds. 2005. Roberts' Birds of Southern Africa. 7th ed. Cape Town: John Voelcker Bird Book Fund. ISBN 978-0620340533
Birdforum thread discussing id of this species
Recommended Citation
External Links