Alternative names: Angola Babbbler; Southern White-rumped Babbler; White-rumped Babbler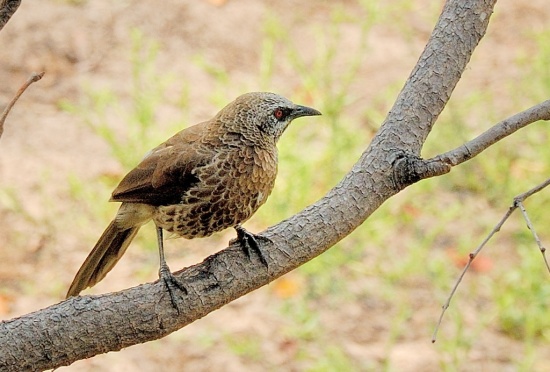 Turdoides hartlaubii
Identification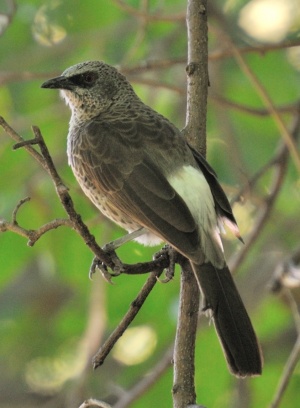 23 - 24cm (9-9½ in). A medium-sized Turdoides-babbler.
Brownish-grey plumage
Pale scaling on head to mantle and throat
White rump
Short stout black bill
Orange-red to crimson eye, often with yellow inner ring
Variations
Griseosquamata is paler than the nominate.
Distribution
Africa: Rwanda, Democratic Republic of Congo, Zambia, Tanzania, Angola, Botswana and Namibia.
Common or even abundant in parts of its range.
Taxonomy
May form a superspecies with White-rumped Babbler.
Subspecies
Two subspecies usually accepted[1]:
The described subspecies ater is considered to be a synonym for the nominate subspecies.

Habitat
Dense scrub between woodlands, gallery woodland, riverine-forest edge, marshy valleys with bushes and tall grass, sometimes reedbeds or papyrus swamp.
Behaviour
Diet
Feeds mainly on invertebrates, foraging mainly on the ground.
Usually seen in pairs or in noisy groups of 5 - 15 birds. Often in mixed flocks with Arrow-marked Babbler.
Breeding
Breeding season from July to October in Angola, March in Tanzania, April to May and October to February in Zambia. Co-operative breeder with a permanent territory. The nest is an untidy bowl made of grasses, dry leaves and thin roots. It's placed about 3m high in a bush, a low tree or among dense tufts of reeds and sedges. Lays 2 - 4 eggs.
Often parasitised by Levaillant's Cuckoo.
Movements
Resident species with some rain-related movements.
References
Clements, J. F., T. S. Schulenberg, M. J. Iliff, D. Roberson, T. A. Fredericks, B. L. Sullivan, and C. L. Wood. 2017. The eBird/Clements checklist of birds of the world: v2017, with updates to August 2017. Downloaded from http://www.birds.cornell.edu/clementschecklist/download/
Del Hoyo, J, A Elliott, and D Christie, eds. 2007. Handbook of the Birds of the World. Volume 12: Picathartes to Tits and Chickadees. Barcelona: Lynx Edicions. ISBN 978-8496553422
Recommended Citation
External Links