Lissotis hartlaubii
Identification
Male 60 cm (23½ in)
Thick black post-ocular line
Thick black line from the eye down to the throat
Separated by white spot
Blackish lower back, rump and tail
Similar Species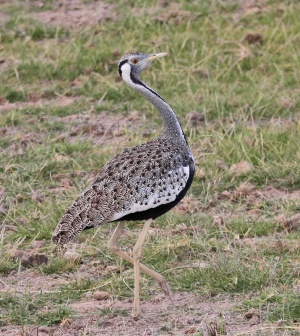 Similar to Black-bellied Bustard. Hartlaub should show nice white spikes on upperparts (white margins) combined with reduced dark centers. Tertials are hardly visible (barred in Black-bellied, uniform in Hartlaub)
Distribution
Africa: found from eastern Sudan to Ethiopia, Somalia, northeastern Uganda and northern Tanzania.
Taxonomy
This is a monotypic species[1].
Eupodotis vs. Lissotis
Some authorities (Sibley & Monroe, 1996) lump the genus Lissotis within Eupodotis. However, Clements (2007) and Howard & Moore (2003) have split Lissotis as a separate genus, and the Opus follows in this consensus.
Habitat
Tall grassland in open areas with scattered acacia trees.
Behaviour
Diet
There is little information; they are known to eat invertebrates and some vegetable matter.
References
Clements, J. F., T. S. Schulenberg, M. J. Iliff, D. Roberson, T. A. Fredericks, B. L. Sullivan, and C. L. Wood. 2016. The eBird/Clements checklist of birds of the world: v2016, with updates to August 2016. Downloaded from http://www.birds.cornell.edu/clementschecklist/download/
Handbook of the Birds of the World Alive (retrieved May 2017)
Kenya Birds
Recommended Citation
External Links