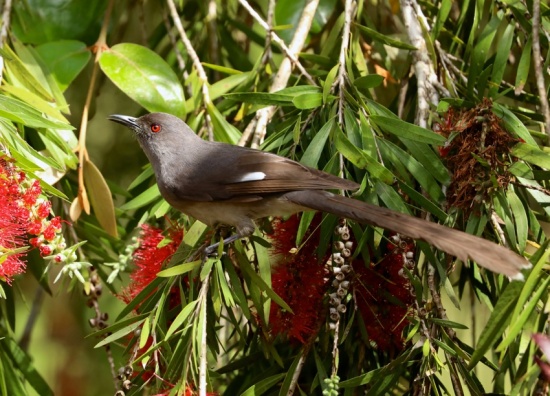 Heterophasia picaoides
Identification
28–34·5 cm (11-14 in), an unmistakable Sibia1:
Grey to greyish-brown
Long, white wing patch
Extremely long, graduated, broadly white-tipped tail
Slender bill which is slightly downcurved
Dark, red eyes
Juveniles have grey eyes. Can be confused with Grey Treepie, Green-billed Malkoha or a Blue Magpie in flight.
Distribution
Found from the Himalayas (Central Nepal) east over Sikkim and Bhutan to NE India and NE Bangladesh to Myanmar, Thailand, S China (Yunnan, Guangxi) and Laos. Also south to Peninsular Malaysia and on Sumatra (Indonesia).
Very rare in Nepal but common in most other parts of its range.1
Taxonomy
Subspecies
Usually four subspecies are recognized1, 2:
Cana is sometimes considered doubtfully valid.1
If the genera Leioptila and Malacias would be accepted, this species would be the only remaining member of Heterophasia.1
Habitat
Broadleaf evergreen forest, forest edge, secondary growth, open scrub with large trees, forest clearings. Usually found between 100m and 3000m. 1
Behaviour
Diet
Feeds on insects, flower buds, fruits, berries and seeds. Also known to take nectar. Forages mostly in the canopy.
Seen in pairs or small groups of 4 - 15 birds, sometimes more. Often with other species in bird waves.
Breeding
Breeding season from February to August. The nest is a deep cup made of moss with dead leaves, placed on a horizontal branch or suspended from thin twigs of a tree, 6 - 9m above the ground.
Movements
Resident species, unconfirmed altitudinal movement reported.1
References
del Hoyo, J., Elliott, A. and Christie, D.A. eds. 2007. Handbook of the Birds of the World. Vol. 12. Picathartes to Tits and Chickadees. Barcelona: Lynx Edicions. ISBN 84-96553-42-6
Clements, J. F., T. S. Schulenberg, M. J. Iliff, S. M. Billerman, T. A. Fredericks, B. L. Sullivan, and C. L. Wood. 2019. The eBird/Clements Checklist of Birds of the World: v2019. Downloaded from http://www.birds.cornell.edu/clementschecklist/download/
Recommended Citation
External Links