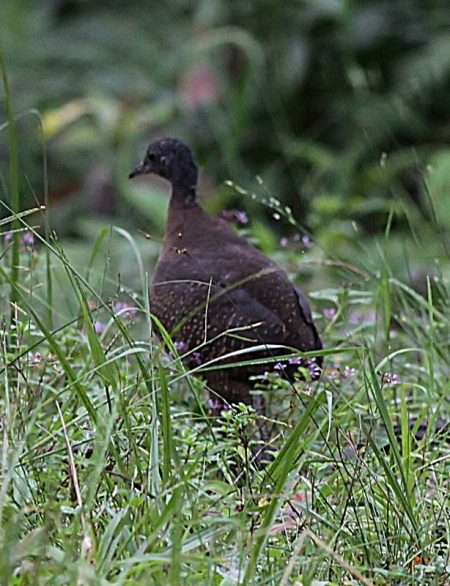 ;Nothocercus bonapartei
Identification
35–41 cm (13¾-16 in)
Black cap
Dark grey face and sides of head
Dark brown upperparts, finely vermiculated with black
Buff-spotted wings and rump
Cinnamon underparts with wavy blackish bars heaviest on flanks
Belly pale-spotted
Blackish crown and sides of head
Rufous on nape
Tawny throat
Distribution
Central and South America
Central America: Costa Rica and Chiriqu Highlands of Panama
South America: west Venezuela, Colombia, eastern Ecuador and north-east Peru.
Taxonomy
Subspecies
Five recognized subspecies[1]
N. b. intercedens
N. b. discrepans
N. b. bonapartei
N. b. plumbeiceps
N. b. frantzii
Habitat
Cloud forest at 1,300-2,500m.
Behaviour
Shy and rarely seen, usually solitary or in small groups of up to five.
Diet
Their diet consists mostly of fallen fruits, with the addition of some small animals.
Breeding
Male often Polygynous. Their clutch contains between 4-12 eggs.
Vocalisation
A series of loud hollow and disyllabic calls rendered cu-ya, audible at some distance.
References
Clements, J. F., T. S. Schulenberg, M. J. Iliff, D. Roberson, T. A. Fredericks, B. L. Sullivan, and C. L. Wood. 2018. The eBird/Clements checklist of birds of the world: v2018. Downloaded from http://www.birds.cornell.edu/clementschecklist/download/
Handbook of the Birds of the World Alive (retrieved Sept 2018)
BF Member observatiofns
Recommended Citation
External Links