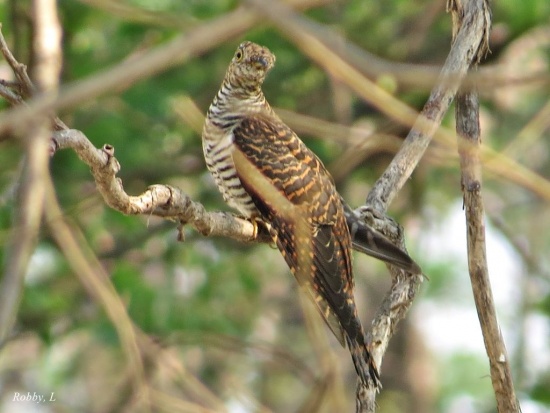 Alternative name: Blyth's Cuckoo
Cuculus saturatus
Identification
32–33 cm (12½-13 in)
Dark ashy-grey upperparts
Blackish brown tail, white spotted and tipped
Ashy-grey chin to breast
White lower breast and abdomen with black bars
White to creamy apricot vent with variable barring
Yellow eye-ring
Females are similar but have a rufous tinge to breast. Also has a rufous morph (in both sexes) with rufous rump and uppertail with dark barring.
Juveniles are slate-grey on upperparts with white feather edges, they have a black throat with white bars and have black and white barred underparts.
Similar species
Virtually identical to Oriental Cuckoo.
Common Cuckoo is very similar but Himalayan Cuckoo has broader and more widely spaced black bars below and the bend of wing below is unbarred (brown and white barred in Common Cuckoo). The rufous morph has dark barred rump and undertail-coverts (plain rufous in Common Cuckoo). The call is also very different.
Sunda Cuckoo is very similar but smaller.
Distribution
Found in the southern Himalayas from Kashmir trough India, Nepal, Assam and to Burma, Thailand and southern China and Taiwan.
Winters to Malaysia, the Philippines to Indonesia, New Guinea and Australia.
Taxonomy
This is a monotypic species.
It was formerly considered conspecific with Oriental Cuckoo and Sunda Cuckoo.
Habitat
Found in forests, open wooded areas and orchards. Occurs at 1500 - 3300m in the Himalayas.
Behaviour
Diet
Feeds on insects, mainly caterpillars. Takes also some fruit.
Breeding
Breeding season May to June in Kashmir. A brood parasitic. Host species are small warbler of the genera Seicercus and Phylloscopus, e.g. Western Crowned Warbler or Blyth's Leaf Warbler.
Movements
A migratory species.
Vocalisation
A high note followed by three lower flat notes, like hoop, hoop-hoop. The female's call is quick-quick-quick.
References
Clements, J. F., T. S. Schulenberg, M. J. Iliff, D. Roberson, T. A. Fredericks, B. L. Sullivan, and C. L. Wood. 2018. The eBird/Clements checklist of birds of the world: v2018. Downloaded from http://www.birds.cornell.edu/clementschecklist/download/
Del Hoyo, J, A Elliot, and J Sargatal, eds. 1997. Handbook of the Birds of the World. Volume 4: Sandgrouse to Cuckoos. Barcelona: Lynx Edicions. ISBN 978-8487334221
Recommended Citation
External Links
The following search may also produce pictures of Oriental Cuckoo and Sunda Cuckoo: