Coccyzus longirostris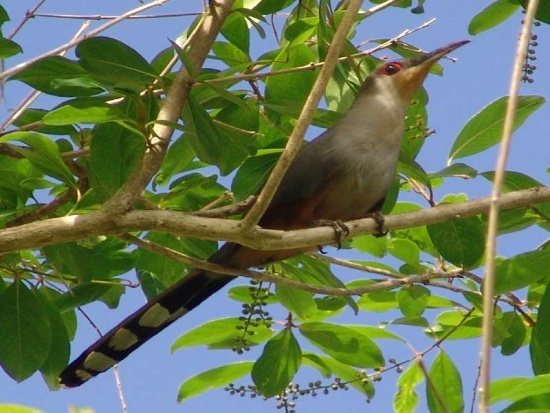 Identification
41–46 cm (16-18 in); a large cuckoo
Notice the pale breast (compare Bay-breasted Cuckoo). Overall brownish upperparts, pale breast, variable throat, darker belly, long graduated tail with white spots on tips (visible on underside of folded tail), long bill, red facial skin around eye.
Distribution
Endemic to Hispaniola and surrounding smaller islands.
Taxonomy
Some authorities refer to Hispaniolan Lizard Cuckoo as Saurothera longirostris.
Subspecies
There are two subspecies[1]:
La Mohotiere Island and Gonâve Island (off western Haiti)
Habitat
Tropical deciduous forests, plantations and other woodlands
Behaviour
Usually seen moving around slowly.
Diet
Eats small vertebrates (particularly grasshoppers and mantids) also caterpillars, cockroach, cicadas, damselflies and large invertebrates such as small snakes and lizards.
Breeding
They construct a flat bottomed platform nest from leaves.
References
Clements, J. F., T. S. Schulenberg, M. J. Iliff, S. M. Billerman, T. A. Fredericks, B. L. Sullivan, and C. L. Wood. 2019. The eBird/Clements Checklist of Birds of the World: v2019. Downloaded from http://www.birds.cornell.edu/clementschecklist/download/
Raffaele et al. 1998. Birds of the West Indies. Christopher Helm, London. ISBN 0713649054
Payne, R. (2020). Hispaniolan Lizard-cuckoo (Coccyzus longirostris). In: del Hoyo, J., Elliott, A., Sargatal, J., Christie, D.A. & de Juana, E. (eds.). Handbook of the Birds of the World Alive. Lynx Edicions, Barcelona. (retrieved from https://www.hbw.com/node/54899 on 6 March 2020)
Recommended Citation
External Links