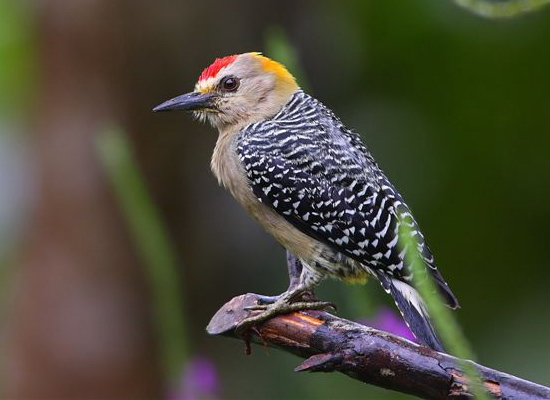 Melanerpes hoffmannii
Identification
18 cm
Upperparts and wings barred black and white
White rump
Pale buffish-grey underparts
Yellow central belly patch

Male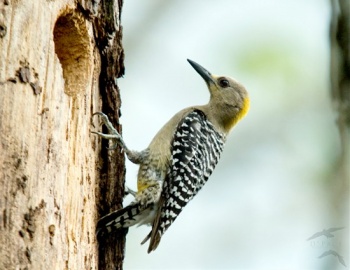 Red crown
White forehead
Yellow nape

Female
White crown and forehead
Yellow nape

Young birds: duller, less white upperparts and less yellow on the belly
Variation
At Tarcoles River in Costa Rica, this species adjoins the very similar Red-crowned Woodpecker. In a narrow region around this river and somewhat to the south, the birds have orange in the rear of their necks, indicating some hybrid origin.
Distribution
South America: found on the Pacific slope of southern Honduras, Nicaragua and northern half of the Pacific slope of Costa Rica.
Taxonomy
This is a monotypic species[1].
Habitat
Deciduous open woodland.
Behaviour
Breeding
The nest hole is unlined and high in a dead tree. The 2 or 3 glossy white eggs are incubated by both adults.
Diet
The diet includes insects, often extracted from decaying wood, and fruit and nectar.
References
Clements, J. F., T. S. Schulenberg, M. J. Iliff, D. Roberson, T. A. Fredericks, B. L. Sullivan, and C. L. Wood. 2014. The eBird/Clements checklist of birds of the world: Version 6.9., with updates to August 2014. Downloaded from http://www.birds.cornell.edu/clementschecklist/download/
Garrigues and Dean 2007. The birds of Costa Rica - a field guide. Cornell University Press. ISBN 978-0-8014-7373-9
Wikipedia
Recommended Citation
External Links
GSearch checked for 2020 platform.1