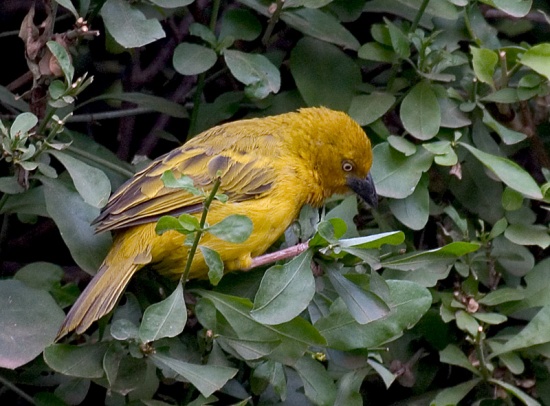 Ploceus xanthops
Identification
Length 15-17 cm, mass 21-39 g. Males larger than females.
A large 'golden' weaver with pale yellow eyes.
Distribution
Eastern South Africa, Swaziland, Mozambique, Zimbabwe, northern Botswana, northern Namibia, Angola, southern, extreme western and extreme eastern DRC, south-eastern Congo, Malawi, western Tanzania, Burundi, Rwanda, Uganda and western Kenya.
Taxonomy
Monotypic.
Habitat
Woodland and savanna.
Behaviour
Forages in dense vegetation for fruit, nectar and insects. Hawks for termite alates.
Breeding
Nests solitarily, or in small groups. The male weaves a kidney-shaped nest with a short entrance tube, using coarse grass, usually over water. One to three eggs are incubated by the female for 14-15 days. Parasitised by Dideric Cuckoo.
External Links