Alternative names: Australian Bronze Cuckoo; Narrow-billed Bronze Cuckoo; Rufous-tailed Bronze Cuckoo; Horsfield's Cuckoo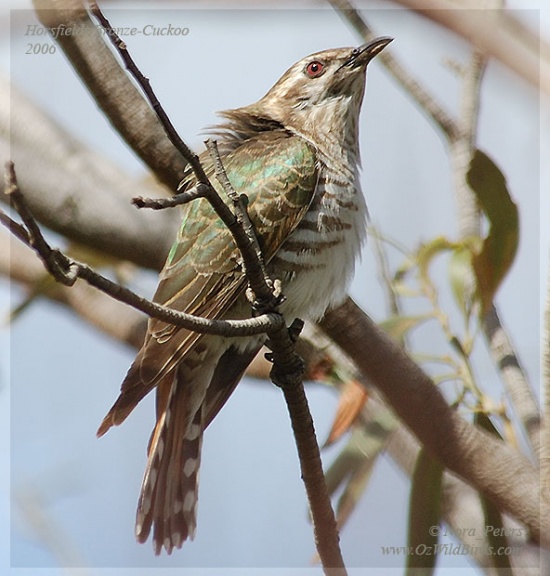 Chrysococcyx basalis
Chalcites basalis
Identification
Olive-brown above with pale scaling and a bronze to green sheen on the back and upper tail. Prominent dark-brown eyestripe, white eyebrow stripe above, with both curving down the sides of the neck. Throat is white with fine dark mottling. Underbody is white to cream with dark-brown barring at the sides, with the bars joining in the middle on the upper breast only. Undertail is grey with brown and white barring at the tip and sides. The tail is edged rufous and the undertail is rufous when spread. Juveniles are similar but duller with faint or no barring on sides of body.[2]
Distribution
Breeds in Australia including Tasmania. Non-breeding visitor to Java and irregularly beyond (e.g. Singapore) during the Australian winter.
Common in much of its breeding range.
Taxonomy
This is a monotypic species[1].
Habitat
Wooded habitats and farmland with some trees, orchards, vineyards and urban parks and gardens.
Behaviour
Diet
Diet includes insects and their larvae, especially hairy caterpillars, and plant matter.
Breeding
It is a nest parasite, like many other cuckoos. The female lays 1 egg in the host's nest.
References
Clements, JF. 2011. The Clements Checklist of Birds of the World. 6th ed., with updates to August 2011. Ithaca: Cornell Univ. Press. ISBN 978-0801445019. Spreadsheet available at http://www.birds.cornell.edu/clementschecklist/downloadable-clements-checklist
Birds in Backyards
Recommended Citation
External Links