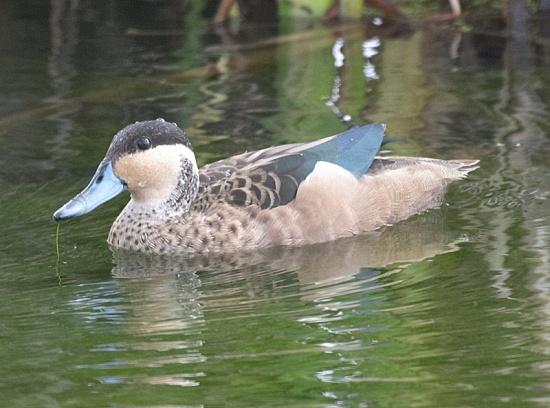 Spatula hottentota
Identification
Length 30–36 cm (12-14 in), mass 186-305 g.
Black and white underwings.
Bluish-grey feet
Sexes similar, but the female has paler underparts and lacks green speculum. Juvenile is duller than adult.
Similar Species
Red-billed Duck is similar but much larger and has a red (not blue) bill and lacks the dark smudge on its cheeks.
Distribution
Eastern and Southern Africa, northern Nigeria and Southern Niger east to Lake Chad area; Ethiopia south to Namibia and Western Cape Province, South Africa; Madagascar.
Taxonomy
This is a monotypic species[1].
Formerly placed in the genus Anas.
Habitat
Well-vegetated ponds and lakes, freshwater marshes, inland waters and flood plains.
Behaviour
Diet
Aquatic invertebrates (crustaceans, molluscs, insects and larvae, especially Coleoptera and Diptera), seeds, fruits, roots and vegetation.
Breeding
Season variable, mainly according to water levels: all months in South Africa (peaking Jan–Apr, wet season), Apr–May and Aug. A nest is built in over water in a dense clump of emergent vegetation (usually bulrushes, reeds or sedges); 6-8 cream eggs are laid and incubated for 25-27 days by the female.
Vocalisation
Male in courtship gives soft quacks. Clicking notes given by both sexes, e.g. a harsh "ke-ke-ke", repeated up to 5–7 times with reduced intensity.
Movements
Mostly sedentary, but subject to seasonal movements of dispersal related with availability of water.
References
Clements, J. F., T. S. Schulenberg, M. J. Iliff, D. Roberson, T. A. Fredericks, B. L. Sullivan, and C. L. Wood. 2017. The eBird/Clements checklist of birds of the world: v2017, with updates to August 2017. Downloaded from http://www.birds.cornell.edu/clementschecklist/download/
Carboneras, C. & Kirwan, G.M. (2018). Hottentot Teal (Spatula hottentota). In: del Hoyo, J., Elliott, A., Sargatal, J., Christie, D.A. & de Juana, E. (eds.). Handbook of the Birds of the World Alive. Lynx Edicions, Barcelona. (retrieved from https://www.hbw.com/node/52889 on 5 July 2018).
Hockey, PAR, WRJ Dean, and PG Ryan, eds. 2005. Roberts' Birds of Southern Africa. 7th ed. Cape Town: John Voelcker Bird Book Fund. ISBN 978-0620340533
Sinclair, I., Hockey, P.A.R., and Arlott, N. (2005). The Larger Illustrated Guide to Birds of Southern Africa. Struik, Cape Town. ISBN 978-1775840992
The Website of Everything
Recommended Citation
External Links