This article is incomplete.
This article is missing one or more sections. You can help the BirdForum Opus by expanding it.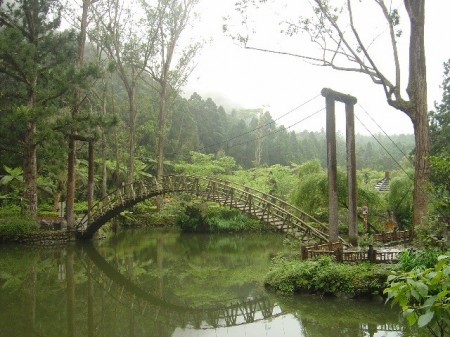 Overview
Hsitou Forest Reserve is situated in West-Central Taiwan's Nantou County. Hsitou is a national forest reserve at an altitude of 1150m in Taiwan's central mountains.
Birds
Notable Species
Hsitou is recognised as one of Taiwan's top birding areas.Hsitou is a very popular weekend get away spot so the best time for birding is during the week or very early morning on weekends.
Hsitou is a good spot for Taiwan's mid altitude birds.The endemic Steere's Liocichla, White-eared Sibia, Taiwan Tit and Taiwan Yuhina are common all year round.There are Taiwan Partridge and Swinhoe's Pheasant in the area but they are not easy to locate.In winter some of the high mountain endemics can be seen in Hsitou.Taiwan Bush Warbler and Taiwan Barwing are seen fairly often in winter and early spring.
Other birds to look out for are Grey-cheeked Fulvetta, Taiwan Wren-Babbler (mostly winter), Vivid Niltava, Fire-breasted Flowerpecker, Eurasian Jay, White-tailed Robin (mostly winter), White-bellied Green Pigeon, Ashy Wood Pigeon, Collared Owlet, Large Hawk Cuckoo (summer), Ferruginous Flycatcher (summer and rare resident), Taiwan Scimitar Babbler, Grey Treepie, Rufous-capped Babbler, Rufous-faced Warbler, Island Thrush (mostly winter), Black Bulbul, Black-throated Tit, Grey-chinned Minivet, Crested Serpent Eagle, Crested Goshawk, Black-browed Barbet, Grey-capped Pygmy Woodpecker and Large-billed Crow.
Check-list
Birds you can see here include:
To do
Other Wildlife
To do
Site Information
History and Use
To do
Areas of Interest
To do
Access and Facilities
By car Hsitou is about 50km south of Taichung and easy to access from Taiwan's No.3 National Highway.Exit at Jhushan-Mingjian and follow the Lugu-Hsitou signs to Hsitou. Lugu is about 10km before Hsitou. Lugu's Oolong tea is amongst the finest of all Oolong teas and a great stop for tea lovers.
By bus from Taichung, take the Lienyin Express Bus bound for Hsitou and Shanlingshi.Alternatively, at Jhushan, take the Yuanlin Express Bus bound for Hsitou and Lugu.At Hsitou, there is a bus running between Shanlinshi and Hsitou.
Jhushan is easily accessed by taking the train or bus to Douliou and then taking a bus to Jhushan from the back of the Douliou station.
Other Nearby Sites
About 20km by road from Hsitou there is the Shanlinshi National Forrest Reserve which is part of Hsitou and well worth a visit.
Contact Details
To do
External Links

Content and images originally posted by Mark Bruce