Overview
Huacarpay Lake is a lake with adjacent marshes in the Valle Sagrado about 30kms east of Cusco. It is surrounded by dry hills and mountains with Inca and pre-Inca ruins. It was declared a Ramsar site in 2006.
It is called Wakarpay in Quechua and also sometimes spelled Huarcapay.
One day is enough to cover the area. The most convenient base for Huacarpay Lake is Cusco.
Birds
Notable Species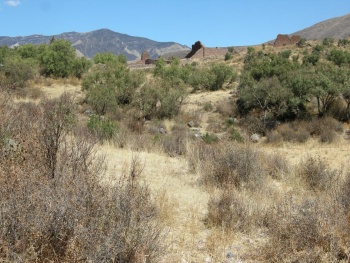 The lake is excellent for high Andean waterfowl and depending on the time of year for waders from North America. Wren-like Rushbird and Many-colored Rush-Tyrant are present in the reeds and Yellow-winged Blackbird can be found. The arid scrub around the lake holds the Peruvian endemic Rusty-fronted Canastero and Streak-fronted Thornbird. Bearded Mountaineer can be seen feeding in the tree tobacco along the roads and Giant Hummingbird occurs as well.
Check-list
Birds you can see here include:
White-tufted Grebe, Silvery Grebe, Neotropical Cormorant, Great Egret, Snowy Egret, Cattle Egret, Striated Heron, Black-crowned Night Heron, Puna Ibis, Cinereous Harrier, Black-chested Buzzard-Eagle, Puna Hawk, Mountain Caracara, American Kestrel, Aplomado Falcon, Peregrine Falcon, Crested Duck, Speckled Teal, Puna Teal, Yellow-billed Pintail, Cinnamon Teal, Andean Duck, Plumbeous Rail, Common Gallinule, Andean Coot, Andean Lapwing, Black-bellied Plover, American Golden-Plover, Black-necked Stilt, Andean Avocet, Greater Yellowlegs, Lesser Yellowlegs, Solitary Sandpiper, Spotted Sandpiper, Baird's Sandpiper, Pectoral Sandpiper, Wilson's Phalarope, Andean Gull, Spot-winged Pigeon, Band-tailed Pigeon, Eared Dove, Bare-faced Ground Dove, Black-winged Ground Dove, White-collared Swift, Andean Swift, Sparkling Violetear, White-bellied Hummingbird, Giant Hummingbird, Tyrian Metaltail, Bearded Mountaineer, Andean Flicker, Rusty-fronted Canastero, Streak-fronted Thornbird, Wren-like Rushbird, White-crested Elaenia, White-browed Chat-Tyrant, Rufous-naped Ground-Tyrant, Andean Negrito, Yellow-billed Tit-Tyrant, Tufted Tit-Tyrant, Many-colored Rush-Tyrant, House Wren, Chiguanco Thrush, Hooded Siskin, Yellow-winged Blackbird, Rufous-collared Sparrow, Blue-and-yellow Tanager, Ash-breasted Sierra-Finch, Mourning Sierra-Finch, Greenish Yellow-Finch, Band-tailed Seedeater
Site Information
History and Use
Farmers and fishers use the lake and the surrounding land. Some lakeshore restaurants are popular on weekends.
Areas of Interest
Beside the lake and the wetland the arid scrub around the lake is interesting for birds. Try the area around the Pikillaqta ruins and the marshlands and dry hills north of the lake.
Access and Facilities
The main road from Cusco (3S) passes the northern shore of the lake. A small road to the right descends down to the shore and goes around the lake.
Busses from Cusco to Urcos or Sicuani might stop at the lake. Ask in Cusco. However, an own car or taxi is much more convenient and most probably safer.
There are some restaurants around the lake. Hotels are plenty in Cusco.
External Links