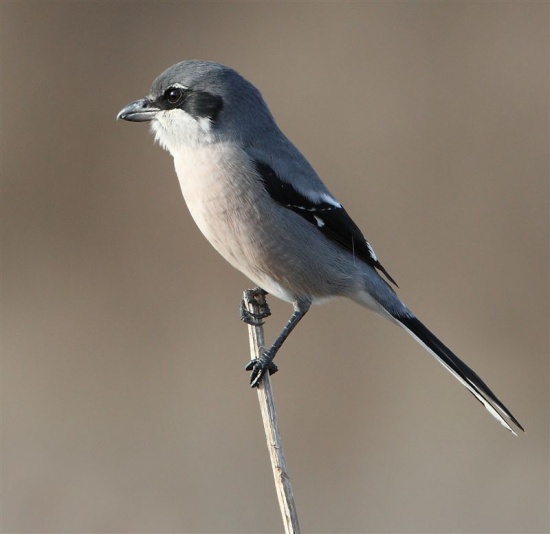 Lanius meridionalis
Identification
Length 24-25 cm (9½-9¾ in), weight 50-70 g
A large grey shrike. Crown, mantle and rump dark grey; black 'mask' with a narrow white supercilium ending just behind the eye; inner scapulars usually white; wing black with white patch at base of primaries; tail long, black-centered with white edges; underparts pinkish-grey, except for white throat; bill black (pale-based in juveniles).
Similar species
Much overlap in characters with Great Grey Shrike, but the pinkish underside is rare in that species. Iberian Grey Shrike does not have white tips on secondaries and tertials, contra Great Grey Shrike.
Distribution
Europe: southern France, Spain and Portugal.
Northern Africa: identified as a vagrant in Morocco
Taxonomy
Split from Great Grey Shrike, initially as a part of Southern Grey Shrike and now isolated as Iberian Grey Shrike. [3].
Subspecies
This is a monotypic species[1].
Habitat
Dry open country, but needs herbs covering at least part of the ground for finding food and needs thorny bushes or similar for nesting.
Behaviour
Behaviour is similar to other shrikes, using prominent perches and impaling corpses on thorns and barbed wire spikes.
Migration
Mostly resident with short-distance dispersal (mostly north) during non-breeding season.
Diet
The diet includes large insects, small birds, rodents and lizards.
References
Clements, J. F., T. S. Schulenberg, M. J. Iliff, S. M. Billerman, T. A. Fredericks, B. L. Sullivan, and C. L. Wood. 2019. The eBird/Clements Checklist of Birds of the World: v2019. Downloaded from http://www.birds.cornell.edu/clementschecklist/download/
Del Hoyo, J, A Elliott, and D Christie, eds. 2008. Handbook of the Birds of the World. Volume 13: Penduline-tits to Shrikes. Barcelona: Lynx Edicions. ISBN 978-8496553453
Gill F, D Donsker & P Rasmussen (Eds). 2021. IOC World Bird List (v11.1). doi : 10.14344/IOC.ML.11.1. http://www.worldbirdnames.org/#Svensson, L., et al. (2009). Collins Bird Guide, 2nd ed., revised. Collins.
Yosef, R., ISWG International Shrike Working Group, C. J. Sharpe, J. S. Marks, and G. M. Kirwan (2020). Iberian Gray Shrike (Lanius meridionalis), version 1.0. In Birds of the World (J. del Hoyo, A. Elliott, J. Sargatal, D. A. Christie, and E. de Juana, Editors). Cornell Lab of Ornithology, Ithaca, NY, USA. https://doi.org/10.2173/bow.ibgshr1.01
Recommended Citation
External Links
GSearch checked for 2020 platform.